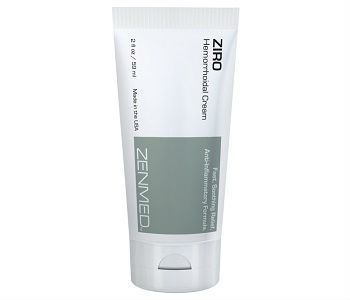 User Ratings (

0

Votes)

0
As if a hemorrhoid remedy can be made appealing by packaging.  ZenMed surely tried.  The unique package design makes the user think they are on to the 'next big thing' in hemorrhoid remedies.  Not so fast.
ZenMed Ziro promises to calm inflammed hemorrhoidal tissues immediately upon contact and to make bowel movements instantly more comfortable.
We scoured the web to verify these representation, unfortunately….  While many agreed that the results were real, even if the stated time frame was less than accurate, others said it had no effect or actually made symptoms worse.  Huh?  Is this what we're looking for?
Ingredients
Ziro contains:
Active Ingredient: Witch Hazel Distillate
Purified water
Extracts of sage
Coltsfoot
Yarrow
Balm mint
Chamomile
Rosemary
Althea
Wild thyme and horsetail
Vegetable glycerin
Certified organic sunflower oil and aloe vera gel
Vitamins A, D3, and E
Soy Lecithin
Cocoa butter
Stearic acid
 Octyl Palmitate
Benzyl Alcohol
Ethyl Hexyl Glycerin
OK, we'll give them a few brownie points for actually identifying their ingredients, but without amounts, adhered to lab standards and more, the information doesn't do much for us.    And what about allergy sufferers?  Proceed at your own risk.
Dosage
ZedMed Ziro cream can be applied up to six times daily, before or after bowl movements. (It seems counter-intuitive to use before a bowel movement, just saying ?! It is recommended that you  you clean your tender are gently and wipe dry before application.   Thorough hand washing before and after application is also advised..
Side-effects of the three active ingredients can include:
Allergic skin reactions
Contact dermatitis
Skin irritation
Small possibility of increased cold sore symptoms – say what?
Price
A bottle of ZedMed Ziro will set you back $34.95.  One bottle constitutes a month supply.  Most of us want hemorrhoid relief faster and longer than that.
There is no indication that this cream can be purchased in larger quantities or weight.
Guarantee
A 60 day money-back guarantee is offered for this product.  Although  immediate relief is promised, with results  between 3-4 days, it is unclear whether a full month's usage is advised even if symptoms resolve earlier. If this is the case, the 60-day window is a slim one.
Our Conclusive Review Of ZenMed Ziro
ZenMed appears to have a higher than average success rate-that's the good news. The bad news is  the inconvenience  of using this product.  It must be applied several times in a day; most oral options have you  pop one or two pills and you are done.  Do you have time to do this during your work day in a bathroom stall?
This solution is no more effective or less expensive than the less invasive pill options.
Bringing you top reviews and product analysis - Consumer Advisors.