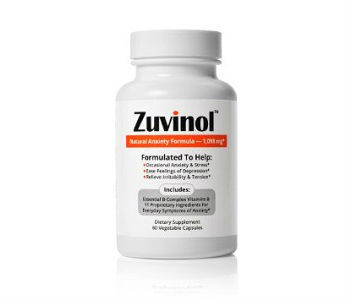 User Ratings (

0

Votes)

0
This is a review of Zuvinol, an anti-anxiety health supplement.  High levels of anxiety, stress, and tension can lead to panic and anxiety attacks. A panic attack can make something as simple as a trip to the grocery store unbearable and can impede your ability to make rational decisions. Panic attacks are at the best of times horribly inconvenient and, at the worst, potentially life threatening. Repeatedly suffering from panic attacks can also reduce short term, and in some cases, long term memory.
Zuvinol is a 100% natural herbal supplement that helps to reduce and relieve the effects of situational anxiety. It is also very affordable, making it one of the most popular alternatives to prescription medications. Zuvinol can help relieve the effects of mild anxiety and stress, and it can helps lessen the severity and frequency of panic and anxiety attacks. The manufacturer claims that many people who try Zuvinol experience relief almost immediately. We decided to conduct some independent research online.  Read on to learn more about this product and whether it is right for your situation.
Ingredients
This is a natural herbal supplement, not a medication. This product contains:
Thiamine (Vitamin B1): Thiamine or Vitamin B1 is a water soluble vitamin of the B-Complex class.
Riboflavin (Vitamin B2) : Riboflavin or commonly known as Vitamin B2 is an essential vitamin from the B-Complex Vitamins Class – an easily absorbable microcolored nutrient.
Niacin (Vitamin B3): An important and essential nutrient to the human body. Niacin or Vitamin B3 as it is known, is an organic colorless compound that is water soluble.
Vitamin B6 (as Pyridoxine Hydrochloride): Vitamin B6 or Pyrodoxine Hydrochloride as it is also known belongs to the Vitamin B Complex class of Vitamins. It is water soluble and has many key roles in the human body.
Pantothenic Acid (Vitamin B5): Vitamin B5 is essential nutrient to the human body and can be nearly found in all sources of foods like cereals, legumes, meat, eggs, avocado or yogurt.
Folate (Vitamin B9): Folate, Folic Acid or better known as Vitamin B9, a water soluble vitamin, also belongs to the B-Complex Class of Vitamins and is also an important vitamin your body should have.
Vitamin B12 (as Cyanocobalamin): Vitamin B12 is a water soluble vitamin and belongs to class of B-Complex Vitamins.
Magnesium (as Magnesium Oxide): Magnesium or Magnesium Oxide is not a Vitamin and is not part of the B-Complex Vitamin Class.
L-Tyrosine: L-Tyrosine or Tyrosine is an important amino acid belonging to a group of 22 amino acids responsible for synthesizing proteins.
GABA (Gamma Aminobutyric Acid): Gamma Aminobutyric Acid is an important amino acid that acts as an inhibitory neurotransmitter in the brain.
N-Acetyl L-Carnitine: This plays an important vital role within the human body in energy production.
Bacopa Monneri (Bhrami): Some benefits of Bhrami include relief from anxiety, and support of cognitive function (memory enhancement.)
Rhodiola Rosea (4:1 Extract): This particular "adaptogen" helps the body adapt to certain physical and environmental stresses that your human body may endure.
Inositol: Inositol is a natural reoccurring nutrient inside your body that helps balance certain chemicals in the body to help relieve mild depression and anxiety.
5-HTP (5-Hydroxytryptophan) (Griffonia Seed Extract)
L-Theanine
Valerian Root (Valeriana Officinalis) (4:1 Extract):
Passion Flower (Passiflora Incarnata) (4:1 Extract):
St. John's Wort
Dosage
Adults: Take 2 capsules 3 times daily.
Price
Blissful Days is available for $32.95.
Guarantee
There is no money back guarantee available. It is unfortunate that this company does not offer a guarantee.  Consumers want to feel confident in trying out a new product. It is disappointing that this product does not offer the security of a money back guarantee. Many comparable products offer guarantees.
Conclusion Of Our Zuvinol Anti-Anxiety Review
This is a natural supplement and that is a plus, but the manufacturers just lets the product down for lack of a guarantee that would greatly boost the product's credibility.
Bringing you top reviews and product analysis - Consumer Advisors.