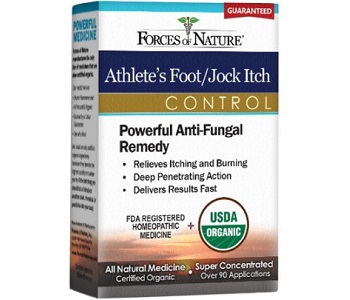 User Ratings (

0

Votes)

0
Today we will review Forces of Nature Athlete's Foot Control. This product aims at relieving the itching and burning feeling that comes with a fungal infection. It also claims to be able to promote the growth of healthy new skin cells. The manufacturer claims that their product penetrates deep into the skin to solve the problem and also that results are seen fast. Read on to see what Forces of Nature Athlete's Foot Control can do for you.
Ingredients
This product uses ingredients that are plant-based and all are organic. The active ingredient found in Forces of Nature Athlete's Foot Control is Hydrocotyle Asiatica (Pennyworth), which helps for itchy skin. Silicea and Thuja Occidentails are seen as anti-fungal remedies. The inactive ingredients help with skin cleansing and provide deep penetration action.
The product seems promising, although it lacks the presence of 25% undecylenic acid, which not only helps to treat, but also eliminate the infection. Furthermore, the product does not contain a dual-action formula for soothing relief as well as prevention of reinfection. Absence of these ingredients and properties may leave the product ineffective.
Dosage
The user must start by cleaning the affected area and drying it thoroughly. A thin layer of the product must be applied over the affected area 3 times a day. Users may ask for directions from their healthcare professional. Always remember to supervise children when using this product. It is suggested that users pay special attention to areas between the toes, to wear well-fitting shoes, to ventilate the shoes, and to change shoes and socks at least once a day. The product must be used for 4 weeks to treat athlete's foot.
Possible Side Effects
No possible side effects have been listed by the manufacturer. They do however state that if any irritation occurs or if it does not clear up within 4 weeks, use of the product must stop and a doctor must be consulted. It is also noteworthy that the product contains tee tree oil and other oils which may be sensitive to certain individuals.
Price
The product can be purchased online from the manufacturer's website and comes in various quantities. A bottle of 4 ml will cost $9.95, 11 ml will cost $14.95, and a bottle of 33 ml will cost $34.85. It is however better purchasing the 33 ml bottle as this will work out cheaper and one will have a larger supply if the infection is very bad. Free shipping is provided on USA orders over $39. The manufacturer does not offer a discount.
Guarantee & Feedback
The manufacturer offers a very solid money-back guarantee when a customer purchases a product from them. Purchases come with a 1-year guarantee on all products if you are not satisfied with the results. The unused portion must be returned. Refunds are limited to three bottles of any one product. The manufacturer does however state that they may send a stronger product instead of a refund. This may not sit well with a customer who just wants their full refund.
Reviews on the manufacturer's website provided mixed feelings, however, most customers where happy with the product.
Our Conclusive Review About Forces of Nature Athlete's Foot Control
After our review of Forces of Nature Athlete's Foot Control we found that the manufacturer provides their customers with a solid 1-year money-back guarantee and they also provide the customer with different options on the quantity of product they wish to purchase.
However, there were also a few things we did not like about the product. The ingredients list does not prove to be effective. This is because it does not contain 25% undecylenic acid for treatment as well as eliminating the infection. Furthermore, the product does not provide a dual-action formula for soothing relief and for the prevention of reinfection. For these reasons, we do not believe the product will be effective. We do not recommend Forces of Nature Athlete's Foot Control.
Bringing you top reviews and product analysis - Consumer Advisors.