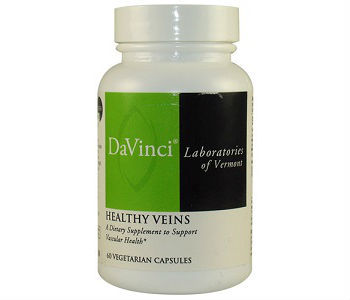 User Ratings (

0

Votes)

0
Varicose veins can be a serious problem. If you suffer from them, you probably know how strange your veins can look, and sometimes how bad they can feel. Varicose veins, if allowed to progress, can even require surgery to fix, which should make you want to treat this problem as soon as possible. You're not alone, however: 25% of women and 18% of men will suffer from varicose veins in their lifetime. Since there are a lot of varicose veins treatments out there, however, it can be a bit confusing trying to separate the good treatments from the bad ones. For this review we'll be looking at Healthy Veins by DaVinci so that you can make an informed decision.
Ingredients
DaVinci Healthy Veins has five active ingredients to help fight varicose veins:
Vitamin C
Diosmin
Hesperidin
Bioflavonoids (from citrus)
These ingredients are used to improve circulation (like the butcher's broom extract) or repair and strengthen vein walls, such as the diosmin and the vitamin C. Healthy Veins also contains vegetable cellulose and vegetable stearate. These are common fillers used to keep the capsule solid and in pill form.
Dosage
According to the manufacturer, a proper dosage of Healthy Veins is two capsules a day, taken at mealtime. (As always, if your doctor tells you something else, follow their instructions.)
Possible Side Effects
The manufacturer did not list any side effects for this product, but that doesn't mean that you for sure won't have a reaction. If you do, stop taking this supplement and contact your doctor.
DaVinci, the manufacturers of Healthy Veins, do suggest that you talk to a healthcare professional before taking this product if you are nursing or pregnant.
Price
A bottle of DaVinci Healthy Veins sells online for $27.20. Each bottle contains 60 capsules, which is one month's worth of supplement if taken at the suggested dose. This is towards the expensive end of treatments for varicose veins.
Guarantee
DaVinci says that they offer a "100% satisfaction guarantee". This is very vague wording, and looking further into their site, we couldn't find any more information about this guarantee, so it's hard to tell whether they will let you return this product if you try it and are not satisfied.
Conclusion Of Our DaVinci Healthy Veins Review
There are some good things and bad things about DaVinci Healthy Veins. The good things are the fact that they use natural ingredients to treat varicose veins (and those ingredients don't seem to have any animal products in them) and that there aren't any side effects listed for their supplement. However, they warn against taking this product if you're pregnant without talking to your doctor first, meaning that it might be unsafe. In addition to this, it's slightly more expensive than similar treatments and it's very difficult to tell if they actually do offer a money-back guarantee. If you want something safer, both ingredient-wise and money-wise, you should probably try a different supplement.
Bringing you top reviews and product analysis - Consumer Advisors.