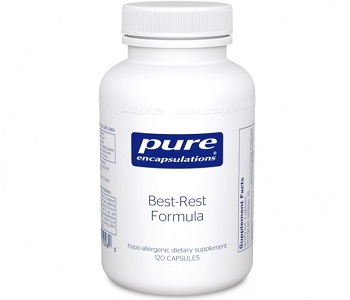 User Ratings (

0

Votes)

0
Waking up from a restful night's sleep is arguably one of the best feelings in the world. Unfortunately, some people hardly ever get to experience this sensation because they suffer from a sleep disorder known as insomnia. Insomnia is characterised by an inability to fall asleep or an inability to remain asleep. To help those who suffer from insomnia, many natural product and pharmaceutical companies have designed medications or supplements to reduce its onset. In this review, we examine the ingredients, side effects and value for money customers receive if they purchase Pure Encapsulations Best-Rest Formula, a natural supplement which aims to reduce the onset of insomnia.
Ingredients
The most important ingredient in this product is probably melatonin. Melatonin is a natural hormone which regulates the sleep-wake cycle. It acts on blood vessels and neurons to stimulate the feeling of sleepiness. This product also  contains amino acids which act in the brain on neurons – Gamma-aminobutyric acid (GABA) and L-theanine. They have been shown scientifically to regulate mood, decrease anxiety and cause sleepiness.
This supplement also contains a few plant extracts, each which have been researched in relation to the treatment of insomnia. These include Valerian root, lemon balm, passion flower, chamomile and hops extracts. Valerian root promotes GABA release. Passion flower and hops extracts have been scientifically proven to have anti-anxiety effects and chamomile and lemon balm have been shown to have mild sedative effects.
Lastly, this product contains vitamin B6, which has been associated with relaxation of body tissues.
There are several minerals which are not present in this product which are included in other sleep-enhancing supplements. Minerals are important for maintaining or improving brain cell function which is vital to treating insomnia.
Dosage
Two capsules can be taken orally thirty to sixty minutes before bedtime. Two capsules together contain 1 mg of melatonin, which is a much lower dosage than generally observed in similar products.
Possible Side Effects
Pregnant and lactating women as well as anyone being treated for a long term medical condition should consult a physician before the use of the supplement. Customers should also avoid driving while using these capsules. Best-Rest Formula has also been shown to have contraindications for any customers who take it along with corticosteroids.
Price
60 capsules can be purchased online for $27.00 and 120 capsules can be purchased for $47.00.
Guarantee & Feedback
We could not find any evidence that Pure Encapsulations provides any sort of money-back guarantee. Pure Encapsulations does not display any customer reviews either.
Our Conclusive Review About Pure Encapsulations Best-Rest Formula
The ingredients present in Pure Encapsulations Best-Rest Formula are well researched. We do think however that this supplement lacks very important minerals, which could help to enhance sleep and reduce insomnia. We also find the dosage of melatonin in this product to be quite low.
Although the product is offered at a reasonable price, the effectiveness of this product is questionable because Pure Encapsulations does not provide a guarantee or any customer written reviews, which shows that they lack some confidence in their own product.
Bringing you top reviews and product analysis - Consumer Advisors.