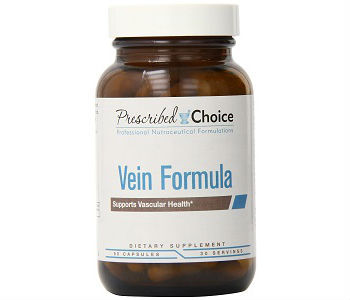 User Ratings (

0

Votes)

0
Varicose veins are a part of many people's lives. One in five women and almost one in five men will find themselves suffering from this problem at some point in their lives. Varicose veins, also called spider veins, happen when the walls of the veins weaken, due to age, extra weight, or even just genetics. When this happens, the veins bulge outwards and become very gnarled, and can sometimes cause pain or discomfort. If not treated early varicose veins can even require surgery to help them get better. Naturally, with so many people fighting this problem, there are a lot of supplements and treatments on the market for varicose veins. There are so many products that sometimes it's hard to tell the good ones from the bad. In this review we'll be looking at Vein Formula Plus from Prescribed Choice to help you make an informed decision.
Ingredients
There are five main extracts in Vein Formula Plus:
Bladderwrack
Grape Seed
Grape Skin
These ingredients are all common in varicose vein treatments. Gotu Kola, horse chestnut, and the grape extracts are used to improve circulation, while bladderwrack is used for vein health. Vein Formula Plus also contains some inactive ingredients:
Microcrystaline cellulose
Rice flour
Silica
Ascorbyl palmitate
These ingredients are inert fillers and make up the rest of the physical part of the capsule.
Dosage
Prescribed Choice recommends three capsules taken once a day with food. If your doctor recommends otherwise, of course, you should follow their instructions.
Possible Side Effects
The manufacturers of Vein Formula Plus do not list any known side effects, but if you do notice any adverse reactions, stop using this product and contact your doctor.
Prescribed Choice states that Vein Formula Plus contains chemicals known to cause pregnancy complications and birth defects according to the State of California. Do not take this product if you are pregnant or may become pregnant.
Price
Vein Formula Plus retails for $18.49 for a 90-capsule bottle, which should last 30 days at the suggested dose. This is on the cheaper end of varicose vein supplements.
Guarantee
Prescribed Choice does not offer a money-back guarantee or refund policy on Vein Formula Plus. Of course, other retailers that you buy it from may have their own policies, but it is strange that the manufacturer is not willing to back up their product with a guarantee.
Conclusion Of Our Prescribed Choice Vein Formula Plus Review
Vein Formula Plus does have some good points, but that might be outweighed for you by the lack of a guarantee and the chemicals that this product contains, which make it unsafe for pregnant people or people who might become pregnant. If you would prefer a safer option, you should try another product that offers a guarantee.
Bringing you top reviews and product analysis - Consumer Advisors.