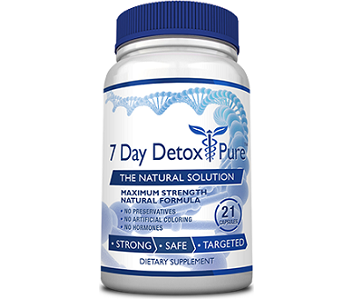 User Ratings (

0

Votes)

0
Taking a product to detox your system provides many benefits. It boosts your energy, gets rid of excess waste, helps with weight loss, boosts your immune system, clearer skin, better concentration, and healthier hair. But it is important to make sure you find a product that is safe to take as many on the market are not. This review will examine the product called 7 Day Detox Pure which claims to be a natural way to cleanse your system. This product claims to contain natural ingredients that will gently cleanse your system, improving your overall health. Read on to learn more about this product.
Ingredients
7 Day Detox Pure contains a blend of 18 key ingredients that are known for their laxative and restorative properties. It contains cascara sagrada and senna which are well-known natural laxatives. Prune juice is another ingredient that is well-known for its laxative properties. It is also packed with various vitamins and minerals. This product also contains aloe vera for its healing properties, fennel seeds for their benefits for digestive health, and ginger for its anti-inflammatory properties to name a few. This product does not contain any artificial ingredients or any binders and fillers so you can be sure that what you are putting in your mouth is safe to use.
Dosage
It is recommended to take three capsules a day. Ideally, you should take one capsule three times a day with a meal. This product should not be consumed for longer than seven days.
Possible Side Effects
There are no mentioned side effects with taking this product. The product contains natural ingredients that are designed to not have harsh effects on the body. However, it is recommended for pregnant and nursing women and individuals with any health issues or who are taking any medication to consult their doctor before using this product.
Price
7 Day Detox Pure is available online for purchase either through the manufacturer's website or Amazon. One bottle contains a week's supply of capsules and will cost $49.95. The manufacturer also provides bulk-purchasing options allowing you to save money. Two bottles will cost a total of $69.90, saving you $70 off the original price. Four bottles will cost $99.80, saving you $180, and six bottles will cost a total of $139.70, saving you $280.
Guarantee & Feedback
The manufacturer offers a decent 60-day money back guarantee. What we like about this guarantee is that you are able to return both opened and unopened bottles if you are not happy. Most manufacturers only allow the return of closed bottles for a refund so we like that this manufacturer ensures a risk-free purchase. It also shows the confidence of the manufacturer.
Customer testimonials show this product to be well-received.
Our Conclusive Review About Consumer Health 7 Day Detox Pure
Based on the research that went into developing this product and the ingredients selected, we think this is a product worth buying. The ingredients are known to provide many benefits, both for detoxing your system and improving digestive health. The money-back guarantee also shows the trustworthiness of the manufacturer. You can also take advantage of some great savings if you buy in bulk. And with the money-back guarantee, you don't have to worry about any financial risk of taking advantage of these savings.
Bringing you top reviews and product analysis - Consumer Advisors.