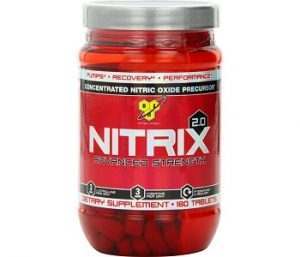 User Ratings (

0

Votes)

0
BSN Nitrix 2.0 is touted as a pre-workout supplement that caters to the needs of beginner as well as professional athletes. The simple amalgamation of key ingredients is said to enhance a person's endurance level, clear out muscle waste accumulation, maximize muscular performance and improve tissue oxygenation. With the hullabaloo surrounding it, we decided to conduct a review of Nitrix 2.0 to see whether the supplement delivers what it promises.
Ingredients
There are several ingredients present in the Nitrix 2.0. Of these, the most active that increase the production of nitric oxide include the following:
L-citrulline malate: Vital for any pre-workout regimen, there is a full three grams per serving in Nitrix 2.0.
Niacin: Popularly found in many health foods, it is a form of Vitamin B3 that enhances your fuel and energy levels.
Pomegranate: It comes with rich antioxidants and other vital nutrients.
Hawthorn extract: It helps to keep your cardiovascular health in shape.
Red pepper extract: It burns fat, owing to the presence of capsaicinoids.
Black pepper extract: It absorbs supplements more efficiently.
Pterostilbene: It aids immensely in the pre-workout process.
Grape seed extract: This extract stimulates blood circulation and nourishes the muscles during hardcore exercises.
Trans-resveratrol: It speeds up weight loss and is a powerful antioxidant.
Dosage
A pack of BSN Nitrix 2.0 comes with 90 tablets. Users are advised to consume six tablets per day. The dosage is three tablets 60 minutes prior to the workout and three tablets after training. It safely boosts nitric oxide production and ups the energy in your body.
Possible Side Effects
During the course of our research, we discovered that the possible side effects of BSN Nitrix 2.0 include headaches, dizziness, and sleeplessness.
Price
The product is priced at $39.99 online.
Guarantee & Feedback
Should you want to replace the product, on finding it damaged or defective, you can do so using the 30-day money back guarantee, provided the product is unopened and packaging is still intact.
Our Conclusive Review About BSN Nitrix 2.0
BSN Nitrix 2.0 is said to be safe and dependable and formulated through the help and guidance of qualified researchers.
Users seem to be appreciative of the supplement. They state that the product works in accordance with the manufacturer's claims. However, they do caution other users to follow the dosage carefully and also eat healthily to ensure high endurance levels and pumped up veins.
The product seems to fulfill its expectations as evidenced by the many positive reviews it has garnered from consumers. However, it does not contain L-arginine, which is a widely researched and well-known nitric oxide booster. You may want to think twice about Nitrix 2.0 if you want to look lean and well-cut as water retention due to creatine could be problematic.
Bringing you top reviews and product analysis - Consumer Advisors.