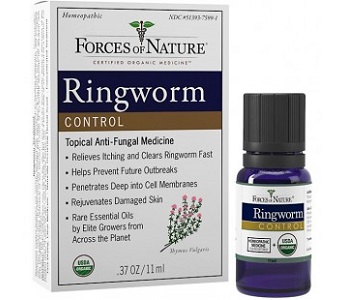 User Ratings (

0

Votes)

0
Ringworm can cause an itching or even a burning sensation that can cause great discomfort. It presents as a raised, red, inflamed, circular rash that often resembles a curled up worm. Ringworm is not in fact a worm at all, but rather a fungal infection, caused by a class of fungi known as dermatophytes. Dermatophytes obtain their nutrients from the layers of skin in animals and humans. Unfortunately, these infections can be quite contagious and can spread over the body and from person to person by direct contact or by contact with an object which the fungi have been spread onto. Fortunately, a ringworm infection is easily treatable. Forces of Nature Ringworm Control is a natural ointment which is designed to eliminate ringworm and treat the itching and inflammation which accompanies it.
Ingredients
This ointment relies on the action of three key ingredients: Thuja Occidentalis extract, silica tissue salt and sodium chloride. The Thuja Occidentalis extract is a scientifically proven disinfectant which is effective in eliminating certain fungi, This is because it contains compounds called thujones which are cytotoxic. In smaller concentrations, they do not harm human cells, but they destroy fungal cells. Silica tissue salt is reported to decrease the symptom of itching which accompanies a ringworm infection, though this has not yet been scientifically tested. The sodium chloride is also toxic to fungal cells at concentrations which are too low to affect human cells. This ointment also contains many oils, which are not active ingredients, but may contribute to skin healing effects.
Dosage
The ointment should be applied to the affected area three times a day after washing and drying the area thoroughly. The manufacturer recommends consulting a doctor if the infection persists after 4 weeks of use of this ointment.
Possible Side Effects
As with any topical treatment, ingestion and contact with eyes should be avoided. If irritation from the use of this product occurs, cease use immediately.
Price
One bottle of 11 ml (0.37 fl oz) can be bought online for $14.95 and a bottle of 33 ml (1.11 fl oz) can be bought for $34.85.
Guarantee & Feedback
Forces of Nature offers a money-back guarantee which is valid for one year after the purchase of the ointment, though it does not specify what conditions the product must be returned in.
There are a few customer reviews about this ointment, the majority of which are positive.
Our Conclusive Review About Forces of Nature Ringworm Control
The ingredients present in this ointment are promising, though some lack scientific data to support their claims. The directions for use for this product are quite clear and the price is quite reasonable. The guarantee provided by Forces of Nature is quite substantial and the feedback for this product is mostly positive.
The only major drawback with regards to this ointment is that it contains ingredients which are not commonly used for the treatment of ringworm and some have not been properly tested. We are not entirely sure about the effectiveness of this product and would rather suggest the use of ingredients which have been tested, until sufficient data can be gathered for the ingredients used in this product.
Bringing you top reviews and product analysis - Consumer Advisors.