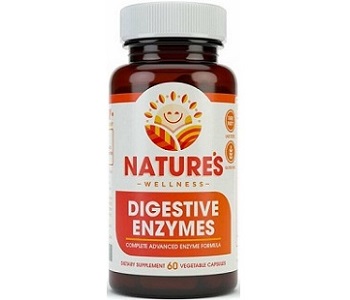 User Ratings (

0

Votes)

0
This review will focus on the dietary supplement called Nature's Wellness Digestive Enzymes. This product aims at digesting and absorbing a wide variety of foods and nutrients, ranging from proteins to the most common types of carbohydrates. The product has also been designed to provide the user with relief from gas, bloating, and nausea. Read on to see if Nature's Wellness Digestive Enzymes is an effective product for treating irritable bowel syndrome (IBS).
Ingredients
Nature's Wellness Digestive Enzymes contains a long list of digestive enzymes including Protease, Amylase, Lipase, and Papain. These enzymes help stimulate the chemical reactions that break down foods, allowing for regular bowel movement. The product is not vegan friendly and it does contain dairy, soy, and wheat, due to the fermentation process.
The ingredients list lacks BioPerine. This would help increase absorption and bioavailability, however, the absence of this ingredient may cause the product to be less effective. Furthermore, the product does not contain soothing ingredients that help with intestinal pain caused by IBS.
Dosage
It is suggested by the manufacturer that users take 1 capsule, 1 to 2 times a day at the beginning of each meal. Users may also consult their healthcare professional on the use of the product. It is also advised that one not exceed 6 capsules of the product within any 24-hour period.
Price
Nature's Wellness Digestive Enzymes can be purchased online from the manufacturer's website. A single bottle of 60 capsules will cost $17.85. Even though this price is quite reasonable, the manufacturer does not offer discount or bulk purchases. The product may become expensive for long-term users.
Guarantee & Feedback
The manufacturer offers 2 guarantee options. The first option is a 60-day money-back guarantee on sealed products in their original packaging. The second option is for customers who are not completely satisfied with the product. However, it is for first time purchases and only on the first bottle purchased.
Both these guarantees are very week. The first option does not allow the product to be returned open or used, whilst the second option does not provide the customer with a return time.
The manufacturer only provides one very positive customer review on their website. We were unable to find any other reviews. This will not help potential customers make an informative decision on their purchase.
Our Conclusive Review About Nature's Wellness Digestive Enzymes
At first glance, Nature's Wellness Digestive Enzymes seems to be a promising product. The manufacturer has filled the product with digestive enzymes that help digest and absorb foods and nutrients. It also comes in easy to swallow capsules.
Unfortunately, we have also found a few negative aspects about this product. Firstly, it does not contain BioPerine, which helps increase absorption. Furthermore, the product only contains digestive enzymes and is not formulated from a variety of ingredients that help soothe the intestine, treat the symptoms, and prevent IBS. Secondly, the manufacturer does not provide a discount. Lastly, the money-back guarantee offered by the manufacturer is very weak and an alternative manufacturer with a strong return policy is recommended. We do not believe that Nature's Wellness Digestive Enzymes is effective.
Bringing you top reviews and product analysis - Consumer Advisors.