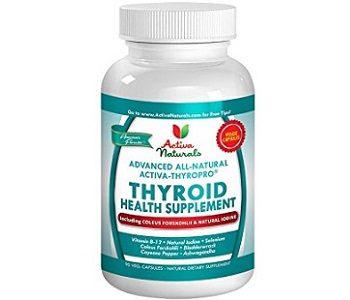 User Ratings (

0

Votes)

0
The following is a review on the supplement ActivaThyro which was formulated to assist with the health of the thyroid. The company Activa Naturals, which manufactures this supplement product, claims that this product supports thyroid health and allows it to function naturally. Read our review for more.
Ingredients
Vitamin B12 (100 mcg)
Iodine (from kelp) (150 mcg)
Magnesium (oxide) (100 mg)
Zinc (oxide) (8 mg)
Selenium (amino acid chelate) (200 mcg)
Copper (oxide) (200 mcg)
Manganese (amino acid chelate) (2 mg)
Molybdenum (amino acid chelate) (50 mcg)
Proprietary blend (schizandra (herb powder), coleus forskohlii (herb powder), ashwagandha (herb powder) bladderwrack (herb powder) and cayenne pepper (herb powder))
Iodine helps the thyroid to function well. It is also used to help produce the thyroid hormones and without it, or if levels are low, the gland will start to enlarge. Magnesium helps the gland to produce T4, as well as to change T4 into T3, but also to help boost energy levels. Whereas the element selenium helps to support efficient thyroid hormone synthesis and metabolism, but also helps to protects the thyroid gland from damage. The element manganese plays a role in fat metabolism, liver function and liver antioxidant status. Both copper and zinc plays an important role in the functioning of a healthy thyroid. This formula is presented in a vegetable capsule free from gelatin, which means it is suitable for vegans and vegetarians.
Dosage
The manufacturer suggests that adults should take one (1) capsule per day with water and food. It is also suggested by the manufacturer that this dose should not be exceeded. Furthermore, the maker states that consumer may follow their health care providers, for an alternative dosage instruction.
Price
A bottle (90 capsules) is available on the maker's own website for the purchasing price of $39.95. This is a discounted price as the original price was marked at $59.95 per bottle. Still, the manufacturer does not offer any package deals which would make this product more economical in the long term for the end user.
Guarantee
The manufacturer does offer a money-back guarantee, as well as a satisfaction and transparency guarantee on these products. The maker states that anyone that is not satisfied with this supplement may return it for a full refund.
Activa Naturals ActivaThyro Review – Conclusion
The product ActivaThyro is claimed to support a healthy thyroid. There are some really good aspects to this supplement, namely that it is supported by a 60-day money back guarantee from the manufacturer. In addition, this product is free of fillers which would otherwise only decrease the quality of the product. However, even though most of the product information is provided by the manufacturer on their website – information such as the list of ingredients are so fine they are difficult to read. Consumers should not just be provided with information, the information should be clear enough to read. This as consumers should be allowed to make informed discussions. Either way, this manufacturer's product is not made in a GMP certified factory, which would have meant that the ingredients and the label matches 100%.
Bringing you top reviews and product analysis - Consumer Advisors.