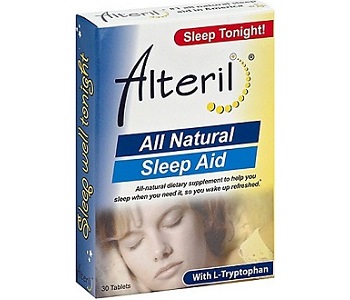 Quality of Ingredient

7.5

User Ratings (

0

Votes)

0
This Alteril All Natural Sleep Aid Review examines the possibility that this supplement might assist with sleep patterns and sleep disorders. Alteril All Natural Sleep Aid has been manufactured to assist the consumer with a good, sound, restful sleep.
Ingredients
Main Ingredients:
L-Tryptophan assists by relieving mood swings and irritability. Glycine is used to treat schizophrenia and improve memory. Melatonin is used to regulate the night sleep pattern and the wake-up pattern in the morning.
The ingredients would not be effective as clinically proven key ingredients are omitted from the ingredients such as Lemon Balm, Taurine, Magnolia, Jujube Extract, and Reishi Mushroom – these ingredients have been proven clinically to be effective.
Proprietary Blend:
GABA
Valerian Root Extract
Chamomile Herb
Hops
Passion Flower
GABA helps the brain to ease anxiety and create a state of relaxation, making it easier to fall asleep and extend the duration of deep sleep. Valerian Root is used to calm both body and mind. Chamomile, Hops and Passion Flower, are used for their calming and soothing effects. The above formula consists of a proprietary blend, which comes as a risk. The manufacturer might use an amount that is far over the recommended value which may lead to an overdose. The other scenario is that the blend could just not be effective.
Other Ingredients:
Sorbitol
Calcium
Dicalcium Phosphate
Sodium Croscarmellose
Polyvinyl Alcohol
Polyethylene Glycol
Titanium Dioxide
Talc
Riboflavin
Magnesium Stearate
Silicon Dioxide
The list of above ingredients is either generally well-tolerated additives and lubricants. Vegetable Magnesium Stearate is listed, and this is certainly a worry as it poses a threat as a contaminant, which may affect the outcome this supplement has on the consumer.
Dosage
Alteril tablets should be taken approximately 1 hour prior to going to bed. The shot should be taken about 15 minutes prior to going to bed. Ensure that you have eight hours to commit to sleeping to get the best results.
Price
The price per container from the manufacturer's website is $18.95 plus $4.95 shipping and handling fees. Also available at various third-party retailers.
Guarantee & Feedback
The manufacturer does mention that they offer a guarantee which covers shipping and handling costs, however, no further details are given as to how long the period of warranty is if refunds are offered for returns or what state the product needs to be returned in.
Our Conclusive Review About Alteril All Natural Sleep Aid
In our review, we like the fact that this Alteril All Natural Sleep Aid has some positive customer feedback, and that this product is vegan and vegetarian-friendly. We do need to consider the negative aspects of the product as well, which include the understated guarantee, and the uncertainty of results due to the proprietary blend of ingredients. What is more is that Magnesium Stearate, a potential contaminant (unless tested by a third-party) is utilized in the blend, among other lubricants and additives in a long list of inactive ingredients. We simply cannot recommend this product as we feel other leading brands offer their clients higher standards.
Bringing you top reviews and product analysis - Consumer Advisors.