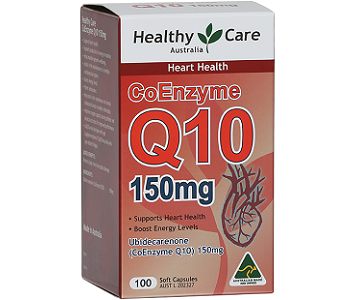 User Ratings (

0

Votes)

0
In this review, we have provided in-depth information about Healthy Care Australia CoEnzyme Q10. The company that manufactures this product claims that it supports heart health, improves energy production, and fights harmful free radicals. We have assessed the reliability of these claims to help you make a wise consumer purchase by detailing factors that contribute to product efficacy.
Ingredients
This product contains Coenzyme Q10 (CoQ10). CoQ10 is a substance that is found in almost every cell in the body and predominantly assists in the conversion of fats and nutrients into accessible sources of energy. CoQ10 levels decline with age and supplementation is argued to have numerous other health benefits. CoQ10 is known to support enzymes for improved digestion, defend cells from damaging free radicals, and increase the rate at which other essential nutrients are absorbed. The manufacturer prides themselves in having a cGMP certification and supporting local industries. That said, many competing companies hold cGMP certifications and these alone are not a complete testament to product quality. Alternative products on the market consist of formulas with additional ingredients designed to enhance their effectiveness. Ingredients such as Piperine have been known to increase the absorption rate of CoQ10. This should be considered when searching for a superior CoQ10 supplement.
Dosage
Adults are advised to consume one (1) capsule daily with food. Each serving supplies 150mg of CoQ10. Competing products contain up to 250mg per serving and, therefore, the recommended dosage is too low. This is a concern as additional dosage is required for best results and this will shorten the lifespan of the product.
Possible Side Effects
The manufacturer states that you should not consume this product while on warfarin therapy without medical advice. They also suggest that you should consult a health practitioner if symptoms persist, however, do not stipulate what these symptoms are. This is very concerning as inferior CoQ10 supplementation may cause abdominal pain, nausea, or headaches. We recommend discontinuing use if you experience any of these side effects.
Price
The product is sold online through third-party sites and prices may vary. Potential customers may need to spend additional time searching for the best value deals. That said, a bottle of 100 capsules costs $24,54 USD from one Australian-based website. This seems to be affordable considering the substantial amount of capsules per bottle, however, the required additional dosage shortens the lifespan of each. Therefore, you will need to purchase this product frequently for best results and this could become costly to maintain.
Guarantee & Feedback
The manufacturer does not support the efficacy of this product with a guarantee. Guarantees are entirely dependent on the retailer, however, these generally apply to unopened products. Therefore, consumers are unable to test the effectiveness of the product. The lack of manufacturer guarantee suggests that they are not confident in the product's ability to deliver on claims. It is worrisome to note that there are limited customer reviews for this product. This means that we cannot assure that this product will work as intended.
Our Conclusive Review About Healthy Care Australia CoEnzyme Q10
dHealthy Care Australia CoEnzyme Q10 contains an ingredient that is known to improve cardiovascular health and boost energy production, however, supplies a low dosage. The product is reasonably priced, however, long-term use would become costly as additional dosage is required. The manufacturing processes are supported by cGMP certifications, however, a lack of guarantee and limited customer reviews do not support the efficacy of this product. The cons outweigh the pros and, thus, we do not suggest purchasing this CoQ10 supplement.
Bringing you top reviews and product analysis - Consumer Advisors.