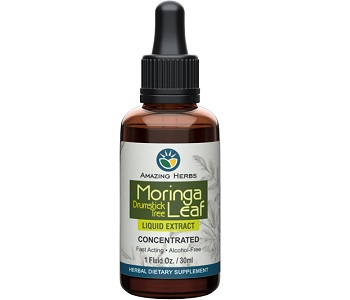 User Ratings (

0

Votes)

0
Moringa extract has become a strong area of focus in the natural supplement market because of the vast collection of health benefits it provides. Moringa extract from the leaves of the Moringa oleifera tree contains many vitamins, minerals, amino acids and antioxidants. It has been used in a variety of ways in traditional medicine, from applying it to the skin to treat infections, to ingesting it to treat high blood pressure. Currently, there has been much research into the effects of Moringa extract on weight loss. And this research has shown that Moringa extract can help with weight loss. This review examines Amazing Herbs Moringa Leaf Extract, which claims to help its customers lose weight.
Ingredients
This product contains pure, concentrated Moringa extract, which is high in calcium, iron and potassium. It also contains Vitamins A,C and E in significant amounts. These vitamins and minerals act in a variety of chemical processes (such as nerve functions) which are vital to general health. Beyond optimizing general health, Moringa extract also contains a substance called benzylamine, which when metabolized acts within the insulin and fat cell pathways. Research has shown that consistent ingestion of benzylamine lowers circulating glucose and cholesterol and aids in reducing body weight. Moringa extract also contains antioxidants, which reduce tissue damage and inflammation.
Dosage
Half a teaspoon of the liquid extract should be taken between one and three times a day, according to the manufacturer.
These dosage instructions are quite ambiguous and may lead to different customers receiving different dosages each day, depending on how they choose to follow the directions. Customers may even not receive a consistent dosage each day, which may modify the effects of the supplement.
Possible Side Effects
Although not specifically stated by the manufacturer, this product is not recommended for pregnant women. Certain chemicals found in Moringa extract may cause spontaneous contraction of the uterus and may cause a miscarriage.
Price
A 1 oz. bottle is available for purchase on various online platforms for between $12.07 and $20.70. Most platforms offer a discount if more than three bottles are purchased at a time. This discount varies – between $0.24 and $4.14.
Guarantee & Feedback
There is no guarantee offered for this product. We found this to be slightly concerning as it does bring the confidence of the manufacturer in their own product into question.
Furthermore, there are no customer reviews for this product available, so there is no evidence of its effectiveness for any given customer,
Our Conclusive Review About Amazing Herbs Moringa Leaf Liquid Extract
The ingredients for this product are natural and pure, and do not contain any additives, which means the customer is unlikely to experience side effects. This product is also offered at a reasonable price and a discount is offered for buying many bottles at one time.
However, the dosage instructions for this product are unclear and ambiguous and may affect the results seen by the customer using it. The effectiveness of this product is also highly questionable as no guarantee is offered and there are no customer reviews available.
Bringing you top reviews and product analysis - Consumer Advisors.