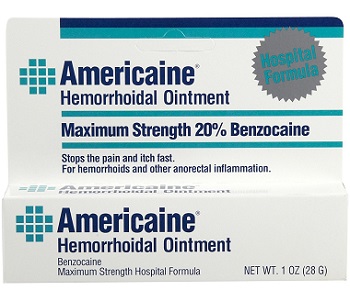 User Ratings (

0

Votes)

0
Today we review Americaine Hemorrhoidal Ointment which claims to provide some relief when it comes to pain and itching caused by hemorrhoids. Hemorrhoids often lead to rectal inflammation and can be very sore and uncomfortable if not treated. With most people bound to experience hemorrhoids at least once in their life, it can be wise to invest in a product that legitimately helps and effectively relieves the problem. If you want to know more about Americaine, read the rest of the review below.
Ingredients
The only active ingredient incorporated into this product is benzocaine. Benzocaine is used to reduce pain and discomfort because it is a topical pain reliever. The effects of benzocaine remain localized for quite a while meaning that you will experience prolonged anesthetic action. Although benzocaine is definitely helpful to relieve pain and irritation, we feel that other active ingredients could have been added to this product to rapidly improve the healing of the irritated areas. There are multiple anti-inflammatory based ingredients that could have bettered the results of this product if it was added to the mix.
Dosage
It is recommended to apply the product to a cleansed area that has been dried thoroughly. Apply the product externally to the affected area up to 6 times a day. If you want to apply this product to children under the age of 12 it is best to consult your doctor before doing so.
Possible Side Effects
It is possible to develop an allergic reaction to the ingredients in this product. Do not exceed the dosage instructions unless directed to do so by a doctor. If your condition worsens in 7 days, bleeding occurs or you develop any kind of irritation please stop using this product and go see your doctor.
Price
You can buy this product on Amazon for $6.51 for 1 Oz of product. This price includes shipping expenses.
Guarantee & Feedback
Amazon has a 30-day guarantee on most of its products. Be sure to check the retailers' individual guarantee policy on Amazon, as some of them may not always offer a guarantee. Alternatively, you can look for other 3rd party retailers that sell this product and that also provide a guarantee with their products. Feedback regarding this product was both positive and negative. There were numerous positive reviews but unfortunately, the negative reviews shattered our confidence in this product. A lot of customers complained that this product didn't help them at all and that they developed adverse reactions when using the product.
Our Conclusive Review About Americaine Hemorrhoidal Ointment
We like that this product offers relief for a problem that can cause a lot of discomforts. We also like that this product has an active ingredient that has been proven to lessen the pain of the affected area. The price of this product is also quite competitive when compared to similar products. However, we feel that this product could've definitely incorporated more active ingredients that provide a long-term solution. We also feel that the negative feedback regarding this product shows that this might not be the best product on the market when it comes to actively getting rid of hemorrhoids.
Bringing you top reviews and product analysis - Consumer Advisors.