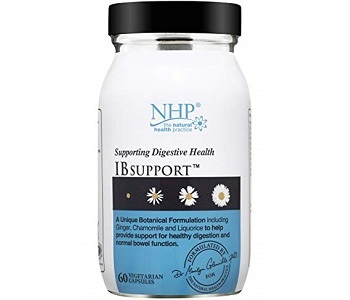 Quality of Ingredient

7.5

User Ratings (

0

Votes)

0
This is our review of a product called NHP IB Support. The manufacturer designed this dietary supplement with the aim of promoting healthy digestion and normal bowel functions. To learn more about how NHP IB Support works and what benefits this Irritable Bowel Syndrome supplement holds, read our informative review below.
Ingredients
NHP IB Support contains a unique botanical formulation. It includes peppermint oil, slippery elm, and marshmallow for soothing properties. It also contains ginger which helps relax the gut and chamomile which helps to provide calming properties. In addition to this the product also contains fennel, artichoke, liquorice, and turmeric for a healthy digestive system. Unfortunately, the product does not seem to contain any natural digestive enzymes such as amylase, lipase, or papain. These are essential is it helps to break down foods to assist with digestion. Furthermore, from our research, it is clear that this product does not contain BioPerine which is important for increased absorption and bioavailability of the nutrients. Lack of these ingredients may cause the product to be less effective when comparing it with other brands.
Dosage
The recommended intake as suggested by the manufacturer is to take 1 to 2 capsules per day. For best results, take the capsules 30 minutes before food and with a glass of water. Users may also follow advice and suggestions provided by a healthcare professional.
Price
Customers can purchase a bottle of 60 vegetarian capsules of NHP IB Support from the manufacturer's official website. A bottle will cost $32.11. Unfortunately, there are no discounts made available and there are no bundle deals to take advantage of. The product may become quite expensive over time if the manufacturer does not provide cost effective discounts and bundle deals.
Guarantee & Feedback
After studying the manufacturer's website, we were able to find a refund policy. Customers will however be disappointed with this guarantee as the manufacturer only accepts sealed products in their original packaging and only within 14 days from the purchase date. This is a weak guarantee.
We were unable to find any customer reviews concerning the product. Potential customers will appreciate being able review current customer's insights towards the product. This will also help potential customers make an informed decision whether or not to purchase the product.
Our Conclusive Review About NHP IB Support
We have completed our review of NHP IB Support and came across a few things that we like about the product. The manufacturer has provided clear and straightforward instructions on when and how to use the supplement.
To our dismay, there are also a few things about the product that we do not like. First of all, the ingredients list lacks essential ingredients such as digestive enzymes and BioPerine. Without these ingredients, the product may not be as effective as other brands. Furthermore, the manufacturer does not provide the customer with the advantage of a discount on the product or affordable package deals. Finally, the manufacturer does not seem to provide a strong guarantee. You will be at risk when making a purchase from this manufacturer. Due to these drawbacks, we are unable to recommend the safe and effective use of NHP IB Support.
Bringing you top reviews and product analysis - Consumer Advisors.