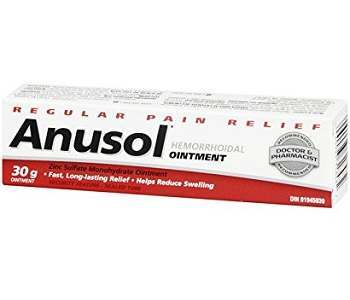 User Ratings (

0

Votes)

0
Hemorrhoids – also sometimes called piles – are a painful, often embarrassing condition that affects hundreds of thousands of people every day. In this review, we turn the spotlight on to Anusol Hemorrhoidal Ointment, which is available over-the-counter as a topical treatment to relieve the pain and discomfort of internal and external hemorrhoids by reducing the swelling associated with the condition.
There are very few people who won't suffer from hemorrhoids at some time in their lives, but men and women over the age of 45, particularly if they are obese, are more likely than others to get it. Hemorrhoids also tend to affect pregnant women as the increased weight of the baby places extra pressure on the hemorrhoidal veins which are located at the bottom of the rectum and the anus. Women who have just given natural childbirth also often suffer from hemorrhoids because of increased pressure – can be internal or external.
Ingredients
This smooth, colorless, translucent ointment has a single active ingredient: zinc sulfate monohydrate 0.5%. Zinc sulfate has anti-inflammatory and wound-healing properties.
Non-medicinal ingredients include calcium phosphate, mineral oil, oleth-2, parabens and petrolatum, combining into a soothing, moisturizing agent to ease the burning sensation of swollen hemorrhoids, and a gentle astringent that helps to shrink the swollen hemorrhoidal tissue.
It comes in a 30g tube and is supplied with an applicator.
Dosage
There is no clear indication on the website of how much of the ointment should be used for each application.
For external hemorrhoids, you are advised to gently wash the affected anal area and pat dry. You can then apply the ointment "freely" as required to the affected area every four hours, as well as after each bowel movement.
For internal hemorrhoids, place a small amount of the ointment onto the applicator, attach the applicator to the tube. Insert the tube into the rectum and squeeze gently to release the medication. This should be repeated every four hours, or as needed, and after every bowel movement.
Possible Side Effects
There are no potential side effects mentioned by the manufacturer, just a warning to take care if you have a sensitivity to any of the ingredients used. There does not seem to be any problem with pregnant or breastfeeding women using the product, which is useful as hemorrhoids is a common complaint among almost and new moms. However, you should check with your doctor before applying the ointment just in case.
Price
There is no price listed on the manufacturer's website. However, you can expect to pay around $8.99 for a 30g tube of Anusol Hemorrhoidal Ointment from most pharmacies as well as online retailers.
Guarantee & Feedback
The manufacturer does not offer any guarantee or money-back offer on this product. This is a little unusual as most hemorrhoid preparations we've reviewed do offer reparation from the manufacturer if the product does not produce the desired results.
Our Conclusive Review About Anusol Hemorrhoidal Ointment
Our review of the Anusol Hemorrhoid Ointment indicates that this translucent product is what one could call an "entry level" treatment for piles. With only one active ingredient, it's been formulated to deal with only the most obvious symptom of a hemorrhoid attack – by reducing the swelling, it should, therefore, have an effect on the pain and discomfort associated with the condition. However, it does not have any active ingredients that deal with the pain of hemorrhoids or other associated symptoms such as bleeding or diarrhea.
While the ointment can be used for both internal and external hemorrhoids, the applicator provided appears to be used only when applying the ointment for internal hemorrhoids. Some users may find having to apply the ointment by hand to external hemorrhoids a little off-putting.
Bringing you top reviews and product analysis - Consumer Advisors.