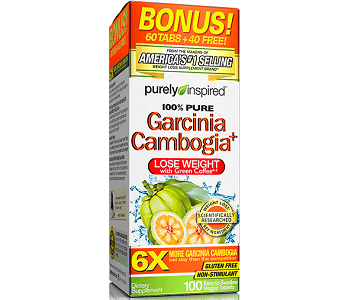 User Ratings (

0

Votes)

0
Losing weight and getting in shape takes time and dedication. It never hurts to have a little help. That is why many people turn to supplements containing Garcinia Cambogia. This extract, made from the rind of a South Asian fruit, is thought to aid the body in fat burning while suppressing appetite. There are many products to choose from. Today we review Purely Inspired Garcinia Cambogia Plus which claims to help people lose weight when combined with a reduced-calorie diet and moderate exercise.
Ingredients
The primary ingredients in this product look fairly basic. This product includes two weight loss ingredients, namely Garcinia Cambogia extract and Green Coffee Bean extract. The Garcinia extract is standardized to contain 50% hydroxycitric acid, and the Green Coffee Bean extract contains 45% chlorogenic acid. This product also contains calcium. We have two concerns, however.  First is the percentage level of the hydroxycitric acid (HCA). The optimum level is thought to be 95%, which is far more than the 50% available here. Calcium is the second concern. While it is essential for good health, it also impedes the absorption of the Garcinia Cambogia extract.
Secondary Ingredients:
Microcrystalline Cellulose
Dicalcium Phosphate Dihydrate
Hydroxypropylcellulose
Croscarmellose Sodium
Hydrogenated Vegetable Oil
Silicon Dioxide
Vegetable-Based Coating (Hypromellose, Glycerin)
Crospovidone
Agents necessary for the processing of the tablets comprise the secondary ingredient list. While none are present at harmful levels, we prefer a simpler list.
Dosage
Purely Inspired recommends taking three tablets twice daily, one hour before eating.  This seems excessive. Too much of any supplement may be dangerous.  On a more practical level, this increases any daily supplement regime by six tablets, something many may wish to avoid.
Possible Side Effects
The company lists no side effects but states that pregnant or breastfeeding women should not consume this supplement.
Reviewers complained of nausea, dizziness, rapid pulse and raised blood pressure.
Price
Purely Inspired does not sell through its website.  It is available through various retailers for around $10.00 a bottle.  This seemed surprisingly cheap until we considered the low levels of Garcinia Cambogia extract present in the supplement and the number of tablets taken every day.
Guarantee & Feedback
We found no evidence of a manufacturer's guarantee. A solid guarantee shows the confidence of a company in the safety and efficacy of its supplement. We cannot trust a company that displays no faith in its product.
Many reviewers stated that the product did not work. Others were daunted by the size and number of tablets.
Our Conclusive Review About Purely Inspired Garcinia Cambogia Plus 
There are some positive aspects to this product. The instructions suggest healthy lifestyle changes should accompany the supplement. The formula is also gluten-free and suitable for vegetarians and vegans.
Unfortunately, there are negatives as well. The percentage of HCA is lower than optimal. The long secondary ingredient list also contains fillers and coatings. While not necessarily harmful, a simpler formula is preferable. The number of tablets in each serving and their size makes it difficult to take.  Reviewers also report troubling side effects.  Finally, the lack of guarantee casts doubt on the efficacy of the supplement and forces the customer to rely on the retailer for a refund.  After considering these factors, we think it is worthwhile looking at other alternatives.
Bringing you top reviews and product analysis - Consumer Advisors.