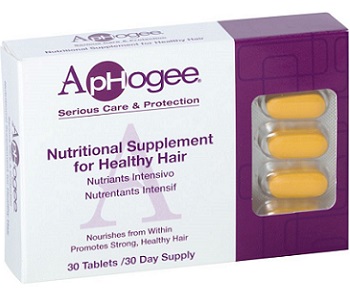 User Ratings (

0

Votes)

0
Today we review Aphogee Nutritional Supplement For Healthy Hair.  With today's lifestyle and diet, many key nutrients are missing from our lives.  This supplement replenishes those needed nutrients to help you grow stronger, healthier hair.  With a whole daily dose of multiple B vitamins, you will be getting everything you need to see better hair growth.
Ingredients
Other than stating that this supplement has 100% of the daily required B1, B2, B6, and B12, there is no other ingredient information listed for this product.  This is seriously concerning, as without knowing what is put into the product, there is no way to tell the actual effectiveness of the supplement.
Dosage
It is stated that only one pill a day is needed to see the best results.  Unfortunately, there is no additional information regarding time of day to take the pill, whether the pill should be taken with food, or how much water needs to be consumed when taking this supplement.
Possible Side Effects
There are no side effects listed on the manufacturer's website, but a quick search of the customer reviews show many gastrointestinal side effects.  Some customers were left being very gassy. Others had such terrible stomach and GI pain they needed to go to a gastroenterologist to make sure they did not have a more serious problem.
Price
This product is not available to purchase directly from the manufacturer.  Instead, the company lists multiple third parties that sell their products.  We found this product for prices varying from $9.86 to $22.99, which shows that it is very important to do your homework to ensure you are getting the best price.
Guarantee & Feedback
As they do not sell directly to customers, the manufacturer does not have any money back guarantee or return policy listed on their website.  If you find yourself dissatisfied with the product, you will be at the mercy of whichever third party seller you bought your supplement from, many of which do not allow returns of opened packages.
Additionally, we found many negative reviews regarding this product.  One of the biggest complaints is that these supplements arrive with an expiration date less than one month away.  With such short time to use the product, customers end up having to throw away part of their supplements.
Our Conclusive Review About Aphogee Nutritional Supplement For Healthy Hair
There are a few positive things about Aphogee Nutritional Supplement For Healthy Hair.  This supplement does contain 100% of your daily recommended dose of four different B vitamins.  Also, this supplement comes in an easy once per day capsule.
Unfortunately, there were many red flags we found about this product.  First of all, there was no real information regarding ingredients or dosing instructions available.  Without this, it is difficult to truly know the effectiveness of these capsules. Also, there were many customer reported side effects that were not shown on the company's website.  The manufacturer also does not sell directly to consumers, which also means they do not offer a guarantee or return policy on their products. Lastly, many customers left this product negative reviews for various reasons.  With all of these concerns, we are unable to recommend this supplement to help you grow stronger, healthier hair.
Bringing you top reviews and product analysis - Consumer Advisors.