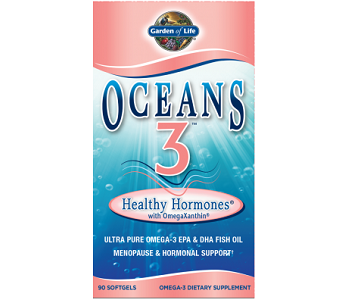 Quality of Ingredient

7.5

User Ratings (

0

Votes)

0
The following is a review for Oceans 3 Healthy Hormones Omega-3 with OmegaXanthin and will examine the facts. The manufacturer of this product claims that it will assist with menopause symptoms such as hot flashes as well as hormonal health and also may also help reduce stress. This product also claims that it has anti-aging, skin and beauty benefits and may also beneficially maintain cardiovascular health.
Ingredients
Vitamin A – 1000 IU
Vitamin D – 500 IU
Vitamin E – 15 IU
Vitamin K – 15 mcg
Thiamin – 1.5 mg
Vitamin B12 – 100 mcg
OmegaXanthin Blend – 1.1 g
Omega-3s – 1 g
Other Omega-3 – 125 g
Eicosapentaenoic Acid – 525 mg
Docosahexaenoic Acid – 350 mg
Natural Astaxanthin – 80 mg
Concentrated Fucoxanthin – 1 mg
Healthy Hormones Botanical Blend – 422 g
Ashwagandha Extract 189 mg
Lifenol Wild Hops Extract – 120 mg
Amla Berry – 113 mg
Vitamins A, D, E, K, Thiamin and Vitamin B12 are beneficial for many body functions and are good for maintaining general health and allover well-being. OmegaXanthin is formulated with omega-3 that is good for treating and preventing many kinds of heart diseases, lowering blood pressure and beneficial for memory and brain function, Astaxanthin helps with cholesterol, blood pressure, and assists with some aging symptoms. Fucoxanthin may help aid fat burning and weight loss. Eicosapentaenoic acid and docosahexaenoic acid are used together in combination and may help aid conditions such as heart disease, menstrual issues, hot flashes and lung disease. The Healthy Hormonal Botanical Blend used is formulated with Ashwagandha extract which reduces inflammation and may help to reduce daily stress. Lifenol wild hops extract assists with anxiety, insomnia, irritability and also amla berry that may assist with obesity, cholesterol and also reduces pain and swelling.
Dosage
It is advised that adults should take three softgel capsules per day along with meals and an 8 oz glass of water. Alternatively, you can also choose to slowly increase the dosage to use three softgel capsules three times per day. It is also advised that this product is not suitable for children and that you should immediately refrigerate after opening. The manufacturer suggests that it is best to use this product with the advice of a doctor.
Possible Side Effects
This product, unfortunately, has possible side effects and research advises that it may cause an upset stomach and that is may also cause allergic reactions. So you should make sure that you are not allergic to any of the ingredients before using this product.
Price
This product can be purchased online directly from the manufacturer and it will cost you $41.59 for 90 softgel capsules. Unfortunately, there are no discounts available which could be disappointing considering that this is a rather costly option.
Guarantee & Feedback
The manufacturer does not offer a money back guarantee and there are only a few good customer reviews available that state some customer have experienced a better mood since using this product.
Our Conclusive Review About Garden of Life Oceans 3 Healthy Hormones Omega-3
This product may be a fairly ok product when considering it is formulated with natural ingredients which may be beneficial and also that it does have a few good customer reviews however, it is very worrying that there are not very many good reviews in comparison to other similar products and even more concerning that there is no money back guarantee. This is also a rather expensive option and it does not seem to have any significantly superior characteristics when comparing it to many other similar products.
Bringing you top reviews and product analysis - Consumer Advisors.