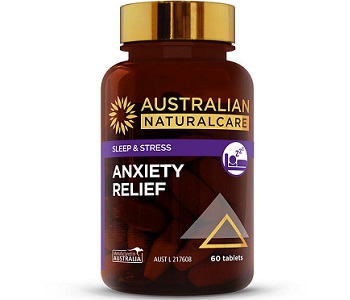 Quality of Ingredient

7.5

User Ratings (

0

Votes)

0
The following product review is of Australian NaturalCare Anxiety Relief. We have analyzed factors that contribute to the effectiveness of this supplement as well as the accompanying customer support to determine if you should consider purchasing it. The manufacturer claims that this groundbreaking product provides relief from symptoms associated with stress and prevents the onset of anxiety.
Ingredients
Withania somnifera root
Eleutherococcus senticosus root
Withania somnifera root, commonly referred to as Ashwagandha, is known to alleviate anxiety. The ingredient works to increase the production of acetylcholine and decrease the production of cortisol and, thus, prevents imbalances that can lead to panic attacks. Rhodiola rosea root aims to support mental function and, thus, provides temporary relief from stress. Eleutherococcus senticosus root is argued to balance the immune system and provide resistance from environmental stressors. This works to optimize bodily function for reduced impact of stress. These ingredients, while beneficial, are not the only important substances for relief from anxiety. Competing products on the market include essential vitamins and minerals that enhance their effectiveness. Melatonin, for example, regulates the body's sleep/wake cycle for improved anxiety relief. Many of these alternative products include both day and night formulas for added benefit during different times of the day. It is also a concern to note that the manufacturing of this product is not supported by a cGMP certification.
Dosage
The recommended dosage is one (1) tablet twice daily with food. This supplies 4220mg of the patented Withania somnifera root (Ashwagandha) ingredient. The typical dosage of Ashwagandha per day is 1000mg and, therefore, this dosage seems too high. A high dosage of this ingredient can lead to negative side effects.
Possible Side Effects
This product contains a very high dosage of Ashwagandha which can lead to negative side effects such as nausea, dehydration, and gastrointestinal disease. The only warning provided by the manufacturer is that if symptoms persist, a health practitioner should be consulted. They do not indicate which symptoms they are referring to. This product also contains Lactose which is a potential allergen.
Price
The product can be purchased online at a 33% discount. A bottle of 60 tablets, which will last one month, costs $14,84 USD. This is an appealing price, however, there are no additional bulk-buy deals to encourage prolonged use.
Guarantee & Feedback
The manufacturer offers a guarantee on products for up to 60 days. The return policy applies to both opened and unopened products. This is positive to note as it indicates a level of confidence in the efficacy of the product. That said, there are insufficient customer reviews to vouch for the effectiveness of the product. This raises concerns over the manufacturer's assurance and brings the quality of this product into question.
Our Conclusive Review About Australian NaturalCare Anxiety Relief
This product contains ingredients that are known to alleviate symptoms associated with anxiety. The reasonable price and lengthy guarantee are appealing selling points. However, we cannot confidently assure product efficacy as there are limited customer reviews to support this. The product lacks essential ingredients common to competitor products and the high dosage is very worrisome. Furthermore, there are no bulk-buy deals to encourage long-term use. These are some of the main reasons why we suggest seeking an alternative supplement with a proven track record.
Bringing you top reviews and product analysis - Consumer Advisors.