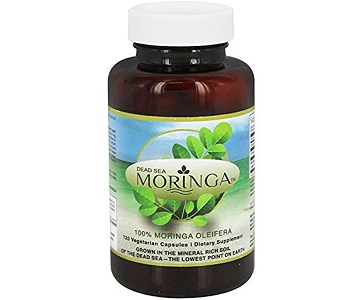 User Ratings (

0

Votes)

0
If you're looking for a daily supplement to improve your overall health, moringa may be the right choice. You can take it as a multivitamin, but moringa does more than just provide your body with important vitamins and nutrients – it provides antioxidants, helps keep your joints healthy, boosts your immunity, and eases your digestive process. Our review determines how true these health benefits are and how moringa grown in the rich soil of the Dead Sea compares to other moringa products.
Ingredients
There is only one active ingredient in this supplement: is oleifera leaf powder. This plant is sometimes referred to as the "Tree of Life" because of the vast benefits it provides to the body. It is used in third world countries to reverse malnutrition. Just like any leafy green vegetable, this supplement is full of essential vitamins. It can replace soy as a vegetarian source of protein. It helps joints, gums, digestion, and cell health. It has even been proven to boost your immunity, keeping you healthier longer.
Dosage
The required dosage of this supplement is one or two capsules, twice a day with a meal. Each capsule contains 620 mg of oleifera leaf. This dosage seemed low to us, as there are other products that contain twice the amount of leaf powder for one pill. A smaller amount of this leaf powder could be ineffective; do your research and make sure you are taking an amount that will have a beneficial effect on your health.
Price
One bottle containing 60 capsules costs $24.95. There is a limited time offer for purchasing these bottles in bulk, offering 81 bottles at just $12.50 apiece. This discount is only available through the Dead Sea products website.
Guarantee & Feedback
The return policy is standard; if a bottle arrives as damaged, you can return it to get a full refund, minus the shipping cost. There is no guarantee for this product if it proves to be ineffective, which is disappointing as other moringa supplements on the market come with a 90-day guarantee and even a year-long guarantee if the supplements do not work as advertised.
The feedback on the Dead Sea website is extremely positive.  There are only three reviews, but each praises a different aspect of the supplement from the affordable price to the benefits it provides to the body. The reviewers that were unhappy with the product said it actually had negative effects on their body, making them feel worse.
Our Conclusive Review About Dead Sea Moringa
Moringa has many surprising benefits that seems to benefit your whole body and improve your overall health. It can be a good source of protein, build healthy cells and provide nutrients usually found in leafy greens like lettuce and broccoli. The positive reviews were abundant and enthusiastic about this product, and it has a great bulk discount available through the website. The downsides of buying this specific supplement are the lack of the correct amount of moringa available in each pill. While the Dead Sea product has just 620 mg, other competitors contain 1200 mg of moringa in each pill. Perhaps it is worth it to try a different supplement with a higher amount of oleifera powder.
Bringing you top reviews and product analysis - Consumer Advisors.