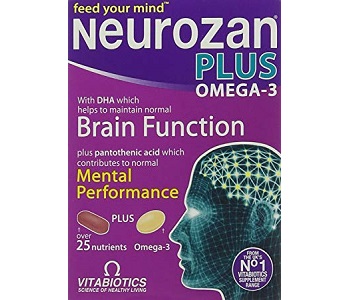 User Ratings (

0

Votes)

0
This is a review of Vitabiotics Neurozan Plus Omega-3 a product that the manufacturer claims might assist with advanced nutritional support to help contribute to the preservation of normal brain and cognitive function.
Ingredients
Main Ingredients:
5-HTP
L-Arginine
Glutamine
L-Glutathione
Co-Q10
Phosphatidylcholine
Phosphatidylserine
Natural Mixed carotenoids
Vitamin D
Vitamin E
Vitamin C
Vitamin B1 (Thiamin)
Vitamin B2 (Riboflavin)
Vitamin B3 (Niacin)
Vitamin B6
Folic Acid
Vitamin B12
Pantothenic Acid (Vitamin B5)
Magnesium
Iron
Zinc
Copper
Manganese
Selenium
Chromium
Iodine
The normal functioning of the nervous system is contributed by Thiamine, magnesium, and vitamin C. Normal psychological function is contributed by vitamins B12, B6, thiamine, folic acid, vitamin C, and magnesium. L-Arginine is used for heart and blood vessel conditions. Phosphatidylserine is used for brain nervous support. 5-HTP used for depression, anxiety and tension headaches. Ginkgo Biloba is used to aid with memory disorders. Co-Q10 is used for heart failure or other heart conditions. For maintaining and keeping strong bones Vitamin D3 is needed. Vitamin C, iron and copper to contributes to normal energy release.  Selenium and zinc contribute to the normal functioning of the immune system.
The ingredients in this formula are targeted at the brain function as well as an overall multi-vitamin. For effective clinically proven results key ingredients should be present such as Huperzine A, Bacopa Monnieri, L-Tyrosine L-Theanine, DMAE, and choline.
Other Ingredients:
Microcrystalline Cellulose
Dibasic Calcium Phosphate
Pregelatinized Starch
Magnesium Oxide
Stearic Acid
Silicon Dioxide
Purified Talc
Magnesium Stearate
Hydroxypropylmethylcellulose
Ethyl Cellulose
Propylene Glycol
Titanium Dioxide
Red Iron Oxide
Microcrystalline Cellulose, Dibasic Calcium Phosphate, & Pregelatinized Starch, Magnesium Oxide – Bulking Agents. Hydroxypropylmethylcellulose, Ethyl Cellulose, Propylene Glycol – Tablet Coating. Titanium Dioxide, Red Iron Oxide – Colourants. Stearic Acid, Silicon Dioxide, Purified Talc & Magnesium Stearate – Anti-Caking Agents.
According to clinical studies, there should be no bulking agents, colorants or artificial ingredients present in the formula, to provide the ultimate in cognitive energy optimization. Magnesium Stearate poses as a contaminant and may impede nutrient absorption.
Dosage
It is recommended to take one tablet per day with the main meal. To be taken on a full stomach with water or a cold drink.
Price
56 capsules at a price of $18.35 may be purchased online from the manufacturer's website. The manufacturer does offer savings if more than one item is purchased.
Guarantee & Feedback
This product offers a 14-day guarantee on items which are damaged, faulty or if it has been sent in error. Only unopened items may be returned to receive a full refund.
The consumer reviews on this item are rated five stars.
Our Conclusive Review About Vitabiotics Neurozan Plus Omega-3
Vitabiotics Neurozan Plus Omega-3 has received a five-star rating from consumers which is very pleasing as well as the fact that this product comes at a good price. However, have we found that there are far too many bulking agents, colorants or artificial ingredients present in the formula, which may subdue the outcome of the supplement. Clinically proven key ingredients (absent in this supplement) will bring dual action short-term cognitive optimization and long-term cerebral health to the brain function. The manufacturer's guarantee is of a very low standard, which raises a red flag as to the effectiveness of this supplement.
Bringing you top reviews and product analysis - Consumer Advisors.