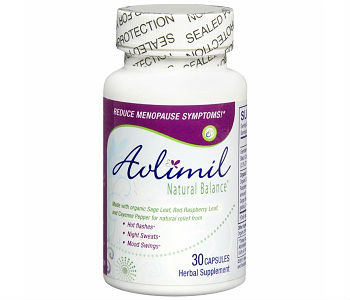 User Ratings (

0

Votes)

0
Avlimil Menopause Relief is meant for combating the menopause symptoms that women go through such as night sweats, hot flashes and mood swings. These symptoms can be pretty annoying and if you can find relief, nothing can be better. Thus, Avlimil is a natural supplement derived from plants. Most of the time, the supplement begins to exhibit its positive effects after a mere ten days. However, the complete effect will only be apparent after sixty to ninety days.
Ingredients
Some of the key ingredients used in this supplement are as follows;
Organic sage leaf essesnce: this aids in keeping the mind more vigilant and fresh. It also increases the concentration levels.
Organic Damiana Leaf: It helps restore the natural hormonal balance. It is also used as an aphrodisiac.
Organic Valerian Root: It helps you be more at ease both at a mental and physical level. Relieves sleeplessness and lessens irritation.
Genistein: Soy isoflavones replicate the effects of estrogen in your system. This reduces the effects of hot flashes, irritation and helps in regaining bone density.
Organic Red Raspberry: This helps in keeping your uterus muscles healthier. It also aids in forming a regular menstrual flow.
Other ingredients that are used in the supplement are silicon dioxide, natural brown rice flour, organic ginger root, organic Licorice root and magnesium stearate.
Dosage
In order for this supplement to be more effective and to make sure that you get the most out of it, you are recommended to take one tablet once a day. Do not alter the dosage in any way or it will lose its effectiveness. Taking two a day will not relieve you of the symptoms any faster than one tablet will.
Price
If you want a thirty day supplement bottle, it is worth $49.95. On the other hand, if you desire a larger bottle which will last you for 90 days, then it will cost you $79. A 6 month supply will be of $149. If one calculates the monthly cost of this supplement, it is merely $24.83.
Guarantee
If you are not satisfied with the product, or if you find that the supplement is not up to mark, then you may return it within the first 60 days. It is worth noting that the tablets are produced according to the laws and regulations set by FDA. In this way, the consumer can be more at ease that the supplement is not only of great quality but is also healthy.
Conclusion Of Our Avlimil Menopause Relief Review
This product has seen great success and has been recommended by doctors. However, the company that produces this supplement does not adhere to cover open bottles. In this way, the purchaser will not be able to test the product and understand if it is suitable for them. They will have to buy the product in order to test it. Avlimil Menopause Relief is mostly made up of herbal ingredients so that the menopause symptoms can be lessened with the given time.
Bringing you top reviews and product analysis - Consumer Advisors.