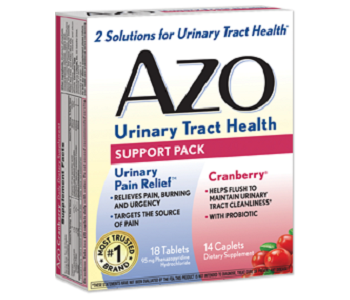 User Ratings (

0

Votes)

0
UTI symptoms can include painful and burning urination, cloudy or bloody urine, fever, and vomiting leaving anybody who has ever experienced these symptoms in the need of a product that can offer immediate relief and will also prevent future UTIs from occurring. This review is going to examine AZO Urinary Tract Health Support Pack. This product contains two different types of support. One pack is intended for immediate relief from UTI symptoms and the other is a cranberry supplement that is geared towards preventing future UTIs from occurring. The manufacturer claims that you will be able to experience relief in as little as 20 minutes after consuming this product.
Ingredients
Ingredients for AZO Cranberry Dietary Supplement:
Vitamin C (as ascorbic acid) – 60 mg
Calcium (as calcium phosphate) – 110 mg
PACARAN Natural Cranberry Powder – 500 mg
Bacillus Coagulans – 30 mg
Inactive Ingredients: Dicalcium phosphate, microcrystalline cellulose, stearic acid, povidone, coating, hypromellose, magnesium stearate, silicon dioxide.
Cranberry is believed to prevent UTIs by making urine more acidic which makes it harder for the UTI bacteria to stick to the urinary tract walls. One serving of AZO Cranberry is equivalent to one glass of cranberry juice.
Ingredients for AZO Urinary Pain Relief:
Phenazopyridine Hydrochloride – 95 mg
Inactive Ingredients: Corn Starch, Croscarmellose sodium, magnesium stearate, microcrystalline cellulose, pharmaceutical glaze, polyvinylpyrrolidone, pregelatanized starch, silicon dioxide and talc.
Dosage
AZO recommends taking two caplets daily with water and not to exceed servings.
They recommend for everyone to consult with their healthcare provider before taking a supplement.
Possible Side Effects
AZO claims that stomach pain may occur if you do not take this product with a meal. It may turn your urine reddish-brown. Through our independent research, we found that taking excess amounts of cranberry can cause mild side effects like upset stomach, nausea, and diarrhea.
Price
You can buy this product exclusively through third-party retailers. We found it available online for $9.51. There are no bulk purchasing packages or discounts offered.
Guarantee & Feedback
The manufacturer asks you to request a return from the third-party you purchased the package from. If they refuse to offer you a return, they will return the money if you follow certain steps and complete the return within 90 days of your purchase. The reviews we found are mixed about this product. Many consumers complained that taking this duo supplement did nothing for them. Others claimed that they experienced severe stomach pain and had to stop taking it immediately.
Our Conclusive Review About AZO Urinary Tract Health Support Pack
This duo pack UTI relief and prevention appears to be decent. It is unique in the way that it contains two products that are geared for UTI symptom relief and prevention together and it comes in colorful and convenient packaging.  However, when we researched consumer testimonials we found a plethora of complaints reporting that this product does not work. Some even claimed that their UTI symptoms had worsened after taking it. The Urinary Pain Relief will only alleviate a few UTI symptoms but will not be able to eliminate one. This duo package is a nice idea but taking into consideration all of the consumer testimonials and the fact that this product cannot eliminate a UTI, we are inclined to search for other products that can relieve symptoms, as well as eliminate and prevent UTIs from occurring.
Bringing you top reviews and product analysis - Consumer Advisors.