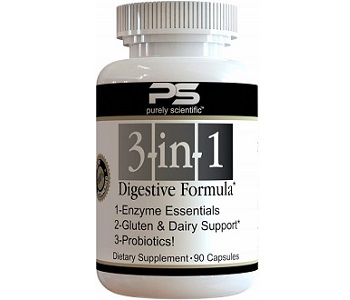 Quality of Ingredient

6.5

User Ratings (

0

Votes)

0
This review is for a product from Purely Scientific called 3-in-1 Digestive Formula. This product contains essential enzymes and probiotics that can help to restore the health of your gut. People often suffer from uncomfortable symptoms like heartburn, gas and bloating due to the damage that is caused to your digestive system when you suffer from irritable bowel syndrome. The enzymes that are included in this formula help your body to digest food more efficiently. The probiotics included in this formula, on the other hand, help to repopulate the healthy bacteria that are supposed to be present in your bowels.
Ingredients
According to the manufacturer, this product contains a professional digestive enzyme blend. It also contains biocore DPP iv-i, professional probiotic blend, vegetable cellulose, and water. When we first looked at the ingredients included in this formula, we believed that it was a rather good combination. However, further research seems to indicate that there are quite a few issues with this product. We are not sure what exactly is included in the professional digestive enzyme blend. This is rather concerning as it could possibly contain a wide variety of additives, preservatives, fillers or binders. We also believe that this formulation lacks a variety of crucial ingredients that we would expect to see in a product like this.
Dosage
Unfortunately, we were unable to find any information regarding the recommended dosage for this product. The manufacturer does state that a serving size is one softgel capsule. Regrettably, they provide no further information so we are not sure if you should be taking this supplement with a meal or not. This is concerning as the contents of your stomach can affect your body's ability to absorb the supplement.
Price
Regrettably, you cannot buy this product directly from the manufacturer. It is available on a variety of other online stores. However, this dietary supplement is currently out of stock so we are unable to give you an indication of the cost.
Guarantee & Feedback
Sadly, we could not find any information on guarantees for this product. This indicates that the manufacturer is not entirely confident with their product. Companies who offer guarantees are sure that their products serve their intended use. Thus, they are not afraid to refund people who are not entirely satisfied with their product. However, a guarantee might be available depending on which third-party seller you choose. We were able to find quite a few reviews for this product. Unfortunately, the majority of these reviews were negative.
Our Conclusive Review About Purely Scientific 3-in-1 Digestive Formula
After finishing our review of 3-in-1 Digestive Formula, we concluded that this was a rather good product. This product contains digestive enzymes and a variety of probiotics. Unfortunately, our research seems to indicate that there are quite a few issues with this dietary supplement. The manufacturers of this product do not provide sufficient information regarding the ingredients included in their proprietary blend. We also feel that there are quite a few ingredients missing from the formula that we would have liked to see. Finally, we were disappointed that we could not find any details regarding the cost of this product.
Bringing you top reviews and product analysis - Consumer Advisors.