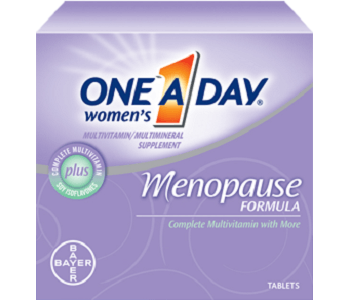 User Ratings (

0

Votes)

0
One A Day Women's Menopause Formula is a natural, multivitamin product for managing symptoms of menopause. According to Bayer, the manufacturer, it is formulated to restore inner balance in women experiencing symptoms of menopause. It is said to reduce hot flashes and improve mood. In addition to controlling menopausal symptoms, its maker also says it provides an energy boost and supports bone health, skin health and heart health. The supplement delivers all these with its blend of important vitamins and natural soy isoflavones. Our review of One A Day Women's Menopause Formula provides essential information you need to know about the product to help you make an informed purchasing decision.
Ingredients
This supplement is for the most part a multivitamin product. It comprises mostly vitamins. The ingredient list includes:
Vitamins A, B6, B12, C, D and E
Thiamine
Soy isoflavones
Niacin
Folic acid
Calcium
Zinc
Magnesium
Iodine
Selenium
Copper
Molybdenum
Chromium
Manganese
There are several other ingredients in addition to the foregoing.
Soy isoflavones are commonly seen in products of this type for their ability to relieve symptoms of menopause. They help to regulate mood and deal with daytime and nighttime hot flashes. Calcium is good for bone health, while vitamin B helps to deal with mood swings that are common with menopause. Most of the other ingredients contribute to your overall health and well-being.
Dosage
One A Day Women's Menopause Formula is, as the name suggests, to be taken once a day as a dietary supplement. It is not clear if there is a specific time to take it each day.
Possible Side Effects
You are not likely to experience any side effects from the use of this supplement. But there is a risk of overdose of some of the nutrients if you consume a large amount of foods that are rich in these nutrients. Possible side effects include upset stomach, constipation, diarrhea and allergic reactions, including rashes and itching. Worsening hot flashes and gastrointestinal issues are also possible.
Price
You can buy One A Day Women's Menopause Formula online or in stores. As such, prices do vary among the different points of sale. At the time of our review, the cost ranged from $9.99 at Jet.com to $34.48 on Amazon.
Guarantee and Feedback
It does seem that Bayer offers a money-back guarantee when you buy this product. You can only hope that you will get good value since it is made by a reputable manufacturer.
Our Conclusive Review About One A Day Women's Menopause Formula
In all, this product looks like a decent one for managing symptoms of menopause. It contains many nutrients that may contribute to your overall health. But it may be more beneficial only to those with milder symptoms since it lacks ingredients such as black cohosh. You should also note that side effects are possible and there is no money back guarantee to cover your purchase of the product as well.
Bringing you top reviews and product analysis - Consumer Advisors.