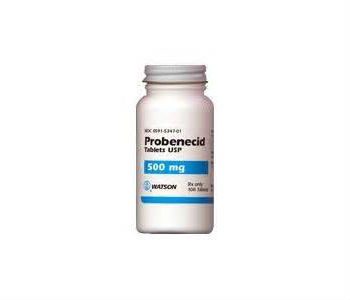 User Ratings (

0

Votes)

0
One of the first things you have to know about Benemid – Probenecid is the fact that it is not considered as a supplement, which means consultation with a medical professional is required prior to having it taken. This uricosoric agent is prescribed by doctors for the purpose of gout treatment. It helps the body to maximize the excretion of uric acid so that it will not crystallize as such can lead into gout symptoms. In some instances, it is prescribed alongside antibiotics, which can make it more effective. Prior to taking this medicine, make sure you do not have gout before. Lastly, it is also often recommended to observe a healthier lifestyle while taking the medicine to optimize the anticipated results.
Ingredients
Probenecid: This active ingredient of the medicine can possibly lead into adverse side effects, which makes it critical to have medical consultation prior to having it taken.
Dosage
As commonly advised by doctors, it is recommended to take it twice daily in 500mg dosage. The maximum dosage is 2 grams daily. It is available in the form of a tablet and should be taken with water, preferably after eating. During the duration of consuming this medicine, patients are also highly recommended to drink a lot of water.
Possible Side Effects
This medicine is not made from natural ingredients, which also means that there is a long list of possible side effects. To avoid suffering from such, make sure it is taken only after being advised by a doctor to do so. If you already have uric acid kidney stones or if you know that you are allergic to probenecid, never take this medicine. It is not also advised for kids who are below two years old. If you have had allergic reactions to any other drugs in the past, let your doctor know as well.
Some of the most commonly reported side effects of taking this medicine include: loss of appetite, dizziness, headache, flushing of the face, sore gums, and nausea. However, in rare cases, it can also lead into weight gain, cloudy urine, fever, and yellowish skin, among others.
Price
For 30 tablets of generic Probenecid, which is 500 mg each, you can expect to pay anywhere from $25 to $41. This cost already comes with an insurance as the medication has been approved. The product cannot be purchased online and will require prescription from your physician.
Guarantee
Although this medicine has been approved by the FDA, manufacturers of such do not offer a satisfaction guarantee.
Conclusion Of Our Benemid Probenecid Review
It is very important to note that this is a prescription drug. While it can provide relief against a variety of gout symptoms, it can put you at risk, especially if you are allergic to its active ingredient. If you prefer natural supplements, which are known for not having side effects, you can consider other alternatives in the marketplace.
Bringing you top reviews and product analysis - Consumer Advisors.