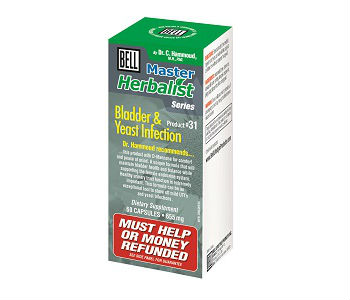 User Ratings (

0

Votes)

0
For those of you who are familiar with holistic supplements like Master Herbalist Bell Bladder Health and Yeast Infection by Bell Bladder Life Style Products, you know how beneficial supplements like this can be. If you are like many people who are tired and frustrated from using antibiotic medications that create unfavorable side effects and you have not tried this supplement, then maybe the time has come for you to try out the holistic benefits that come from taking natural remedies as well. This herbal supplement has a formulation that aids the body in regulating the microflora in the body so that it stays at healthy levels while it additionally helps to defend the body against diseases. We decided to take a closer look at this supplement and let others benefit from what we found out.
Ingredients
D-mannose
Goldenseal extract
Hydrangea extract
Pumpkin extract
Uva-ursi extract
The natural ingredients found in this supplement help to create a potent formula that has been known to prevent the recurrence of yeast infections and urinary tract infections.
Dosage
The recommended dosage for this product is 2 capsules a day. It is best to take the first capsule in the morning and the other after dinner. This product works best when you consult your nutritionist or physician before taking it so that they can prescribe a proper diet and the right amount of medication to suit your personal needs.
Side Effects
There are no known side effects that come from taking this supplement. Always consult your primary health care provider before beginning this regimen if you are pregnant, nursing, or taking other medications. If you are suffering from a current medical condition, it is also wise to consult your physician to make sure that the ingredients in this supplement are not going to clash with the medication or treatments that your physician has already prescribed.
Price
The retail cost of this supplement is $24.95 for a bottle of 60 capsules, which is enough for a full month's supply at the recommended dosage. When calculating this out, this means that you are spending less than one dollar each day to enhance the overall health of your body.
Guarantee
Upon researching this product, it is unclear as to whether the company offers a full money back guarantee should the user feel dissatisfied with the quality or effectiveness of this product.
Conclusion Of Our Bell Bladder and Yeast Infection Review
According to our reviewers, they found that within a few days Bell Bladder Health and Yeast Infection without doubt assists in keeping the urinary tract clean and healthy. Many users experienced immediate relief from infections of the urinary tractr within a few days after beginning to take this supplement. Nevertheless, even though this supplement may be deemed fit for resolving urinary tract infections, it is always best to do your research and look for other options on the market.
Bringing you top reviews and product analysis - Consumer Advisors.