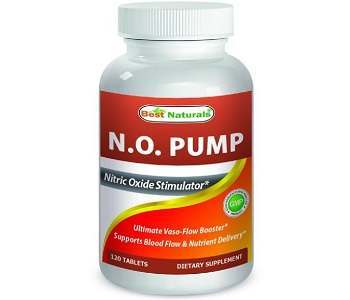 User Ratings (

0

Votes)

0
Blood flow and the delivery of nutrients is very important when you are looking to get the most out of each and every workout. When you have finished working out hard, your body is in desperate need of a boost from amino acids and carbohydrates to re-energize and recuperate. With that in mind, choosing a supplement that is designed to help your body's natural ability to replenish (by making the process faster and more effective) could be of benefit. Yet, products are often notorious for making wild claims that they aren't exactly able to back up with results. This review of Best Naturals N.O. Pump will introduce you to a supplement that claims to help you get the most out of your post-exercise time. Read on to get the information you need to determine if this is the right product for you or not.
Ingredients
Arginine Alpha – Important for the creation of nitric oxides (NO) and generally billed as a bodybuilding ingredient.
Ornithine Alpha – This ingredient has two primary purposes. The first is to ensure that muscle mass isn't lost through the rest periods where you aren't actively exercising. Secondly, it is meant to boost the effectiveness of your metabolism to burn more fat from around your developing muscles.
Arginine Iso – This ingredient increases blood flow throughout your body by encouraging your blood vessels to relax. This aids in a more effective distribution of the nitric oxides throughout your body.
Dosage
The manufacturer suggests taking 3 tablets 2-3 times a day. You should time these out to be about thirty minutes before your meals and take them with a good amount of water. The dosage for this supplement seems to be a little on the high side.
Possible Side Effects
There are no listed side effects for this product, but there are general warnings regarding not leaving it where children can reach it, or using it when you are pregnant or nursing.
Price
Online, the average price a 120 ct. pack is $35. If you purchase directly from the manufacturer you can save over half of that full retail cost and pay just $15 for 120 tablets.
Guarantee & Feedback
There is a 30-day money back guarantee if you find yourself unsatisfied. It is said to be a no-hassle return plan. You simply explain the reason for your return, send back what you didn't use, and get your refund.
Knowing what people have to say about a product can help sway a person one way or the other. For this supplement, the talk online seems to be pretty indifferent and (for many retailers) non-existent completely. It's hard to defend a product that no one has liked or hated enough to review online.
Our Conclusive Review About Best Naturals N.O. Pump
There are some specific positives that anyone can see when they look into this product. Some of the most obvious of pros are the low cost compared to competitors' products and the money back guarantee.
Unfortunately, there are also a few red flags that might give you pause. We are concerned about what may be an excessive recommended dosage and also by the lack of customer reviews online. If you take the recommended dosage of 3 tablets 3 times a day, one bottle will not last a full 2 weeks. This somewhat detracts from the low-cost aspect.
While it seems that it has that a formula to help boost your recovery and overall workout results, the lack of customer feedback is a problem. While the choice is up to you, we might recommend holding off a bit to let someone else be the guinea pig for this product.
Bringing you top reviews and product analysis - Consumer Advisors.