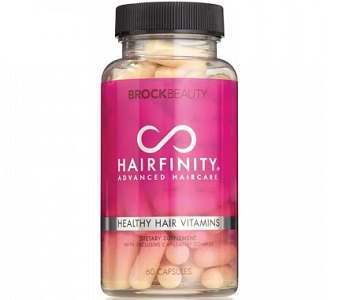 User Ratings (

0

Votes)

0
Many people wish for stronger, longer and thicker hair. Beautiful hair begins with a healthy body and a proper intake of nutrients. This can be difficult to obtain through diet alone, so many choose to supplement. The market is full of such products. Here we review Hairfinity Healthy Hair Vitamins by Brock Beauty. The manufacturer claims that this proprietary blend of vitamins and minerals addresses dietary deficiencies that may lead to thinning, brittle hair.
Ingredients
This product includes vitamins and minerals such as Vitamin A, C, D3, B-Vitamins, folic acid, biotin, calcium, and pantothenic acid. This supplement also includes a Capilsana blend which includes MSM, Hydrolyzed Collagen, and Horsetail Herb. Secondary ingredients include magnesium stearate and gelatin.
This appears to be little more than a typical multivitamin with some added elements thought to promote hair health. Biotin is one of the most important hair nutrients, known to produce keratin which will improve the elasticity of hair and improve hair growth. MSM is an organosulfur compound thought to benefit skin, connective tissue, hair, and nails. It has no known major side effects. Hydrolyzed collagen is derived from the bones and connective tissue of cattle and is similar to the powdered gelatin in dessert mixes. Magnesium stearate is a filler and capsule lubricant.
Dosage
Brock Beauty suggests taking two capsules daily.
Possible Side Effects
The manufacturer lists no side effects.  However, Amazon reviewers have complained of headaches, acne, itchy skin and stomach upset. Many users even complained of hair thinning or loss associated with Hairfinity Healthy Hair Vitamins. This product does not appear to be made in a certified GMP factory, nor does it seem to employ third-party testing to ensure the safety and efficacy of the supplement. The distressing nature of these reviews indicates the importance of such safeguards.
Price
Brock Beauty sells Hairfinity Healthy Hair Vitamins for $25.00 for a bottle containing 60 capsules. You can also receive discounts when buying in bulk. A two-month supply will cost you $49. It is possible to buy a three-month, four-month, six-month and 12-month supply through the manufacturer, with the 12-month supply costing a total of $300.
Guarantee & Feedback
Brock Beauty offers a limited 30-day money back guarantee and retains the ability to refuse refunds at its discretion. The company provides a refund for the amount of unused product. The website states that any return must include all original packaging, manuals, and accessories included in the order.
We find this to be a poor policy. Measurable hair growth takes time and may not be visible after only 30-days. This is too short a time for most customers to determine the efficacy of the product. We also find the original packaging requirement to be somewhat excessive. Many people discard the packaging upon receiving a supplement, only to discover later it is not for them.
Quite a number of reviewers found the product useless, with only 60% of Amazon users leaving a fully positive review. There were complaints about product quality and the customer service provided by Brock Beauty.
Our Conclusive Review About Brock Beauty Hairfinity Healthy Hair Vitamins
There are some things we like about Hairfinity Healthy Hair Vitamins. It appears at first glance to be a decent multivitamin with no added colorants or flavorings. It contains the necessary ingredients thought to strengthen hair, skin, and nails.
Unfortunately, there are many negative aspects. A major concern is the lack of GMP certification and third party testing.  Many reviewers complained of acne, hair loss, and other side effects. Finally, the guarantee is weak and limited leaving an unhappy customer little recourse.  For these reasons, we recommend looking at alternative products.
Bringing you top reviews and product analysis - Consumer Advisors.