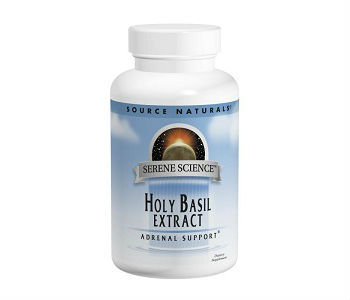 User Ratings (

0

Votes)

0
Serene Science Holy Basil Extract is an herbal supplement that claims to provide adrenal support and be an effective anti-stress treatment.
Holy Basil extract has been found to contain active ingredients that are effective at regulating the body's cortisol levels and combating symptoms of stress such as exhaustion, lack of sleep, memory loss and lowered libido. For thousands of years, the plant has also seen wide use in Ayurvedic medicine as a powerful medicinal herb.
So let's see if Serene Science Holy Basil Extract can live up to its promise of being an effective anti-stress treatment.
Ingredients
Before trying out any supplement or medication, it's important to check what it's actually made of. A quick look at the back of the bottle reveals a ton of important information. If you're really concerned about your body, it's crucial that you know what exactly you're taking.
Each veggie capsule of Serene Science Holy Basil Extract contains:
450mg Holy Basil leaf extract (standardized to 2% Ursolic acid)
Microcrystalline cellulose
Gelatin capsule
Compared to many other Holy Basil supplements, Serene Science offers a respectable amount of Holy Basil leaf extract at 450mg. It is even standardized to 2% Ursolic acid which is close to what clinical studies have confirmed to be an effective dose.
However unlike the best Holy Basil supplements in the market, this product also contains a small amount of unnecessary fillers like Magnesium stearate, which have absolutely no health benefits.
Dosage
Serene Science recommends taking 1 Holy Basil Extract capsule every day for best results. This is quite modest considering other Holy Basil supplements recommend up to two capsules a day.
Side Effects
Holy Basil is considered to be extremely safe to use. This product largely contains only Holy Basil extract and should also be considered relatively safe provided one does not exceed the manufacturer's suggested use.
Like with any other supplement or medication, the manufacturer suggests that pregnant and nursing women check with their doctor first before trying out the product.
Price
A bottle of Serene Science Holy Basil Extract with 60 capsules has a list price of $11 but can also be found on sale for as low as $7. The 120-capsule bottle lists at $27.50 but can also be found significantly cheaper at between $13 and $14. These price are considerably lower than what the competition offers. A small bottle can last up to two months if you follow the manufacturer's recommended dose.
Guarantee
Serene Science and its parent company, Source Naturals, does not offer any type of money back guarantee or return policy on its website. It is important to note that there are other quality Holy Basil supplements out there that actually come with a satisfaction guarantee in case it doesn't work.
Conclusion Of Our Serene Science Holy Basil Extract Review
On the surface Serene Science Holy Basil Extract looks like a decent supplement with its relatively high amount of leaf extract that's even standardized to contain Ursolic acid. However, it has been clinically proven that a 500mg dose with 2.5% Ursolic acid is a key requirement for the extract to effectively manage the body's stress levels. Furthermore, without a guarantee, the validity of this product plummets.
Bringing you top reviews and product analysis - Consumer Advisors.