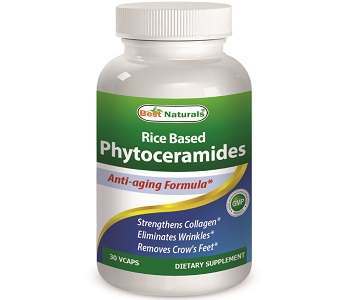 User Ratings (

0

Votes)

0
Getting older, sun exposure or living in a dry environment can leave your skin feeling dry, leathery and wrinkled. Minimizing sun exposure is something we can control, but we can't control aging.  As we get older the natural elasticity in our skin will decline, leaving people looking old and wrinkled. That being said, there is a compound known as ceramides that are derived from wheat, rice or sweet potatoes. Ceramides are known to maintain moisture, strengthen collagen and plump out your skin to minimize your wrinkles. Sounds like a miracle. In this review of Best Natural Phytoceramides, we will see exactly what goes into their product and how beneficial it is in preventing and treating signs of aging.
Ingredients
Their formula contains a daily dosage of Vitamins A, C, D & E. They also contain 350mg of phytoceramides. Their capsules are vegetarian and contain magnesium stearate which has been shown to inhibit the absorption of the supplement. It also contains silica which findings show that supplements with silica contain an enzyme called thiaminase, which can destroy the vitamin thiamine or vitamin B1 in the body.
Dosage
They clearly state on the bottle that the recommended dosage is one capsule per day.
Possible Side Effects
As this is a natural product, there are no side effects associated with taking Best Natural Phytoceramides. However, always consult with your doctor before taking any supplements. You should not take this product if you suffer from allergies to wheat, gluten, sweet potatoes or rice.
Price
On the company website, Best Natural Phytoceramides costs $22.74. On Amazon, their rice-based version costs $19.99. They do not have an option for bulk orders.
Guarantee & Feedback
You can purchase Best Natural Phytoceramides off their website or on Amazon. On their website, they do offer a 30-day money back guarantee. However, you are only able to return closed bottles.
Our Conclusive Review About Best Naturals Phytoceramides
As stated by Best Natural Phytoceramides, this product contains active ingredients to eliminate wrinkles and improve your skin's elasticity. Studies show that ceramides play a central role in preserving your skin and keep you looking young. As we age, our body will slowly stop producing ceramides which are what contributes to wrinkles and dry skin. Best Natural have a high dosage of Phytoceramides and their formula also contains many essential vitamins. However, one downside of this supplement is that it contains magnesium stearate and silica in their capsules, which may prevent your body breaking down the supplement. In some cases, the entire supplement will be rendered useless. Studies show that long-term use of silica can cause a thiamine deficiency, which can lead to some dangerous health conditions. That being said there are a couple of positive reviews on Amazon, although there are no reviews on their own website. Additionally, their product cost is $22.74 per bottle and there is no savings option for bulk orders. The 30-day guarantee also does not really give you much of a chance to really try the product risk-free.
Bringing you top reviews and product analysis - Consumer Advisors.