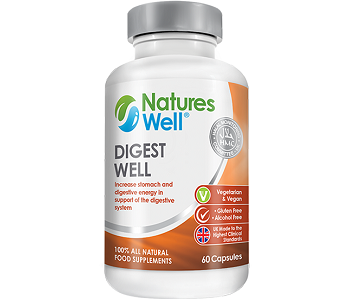 User Ratings (

0

Votes)

0
Digest Well is something of a different supplement for IBS as it doesn't draw on the traditional ingredients associated with the probiotics, enzymes and soothing agents one normally finds in an IVS supplement mix. Instead, pure carom seeds (Ajwain) are used to help indigestion, bloating and nausea. It is based on an Ancient south-east Asian remedy that also incorporates Thymol, which uses the herb thyme. Nature's Well promises that it is a complete digestive formula that helps build a healthy digestive system and is a natural anti inflammatory.
Ingredients
Roasted Carom Seed Powder
Roasted Ginger Root Powder
Ajwain or carom seeds are an ayurvedic remedy used to help the spasms associated with IBS abdominal pain subside. It also helps counter acidity levels and the unpleasant reflux that is associated with IBS as well as gas, and help soothe the intestinal tract by getting it to stop hyper-producing mucus, which it tends to do when irritated. Ginger is a known anti inflammatory and so will help soothe the affected tract area plus help to rid it of antioxidants.
Dosage
For adults. Take up to 2 veg capsules daily, preferably with a meal, as a supplement. You can do this twice a day.
Possible Side Effects
Do not exceed the maximum recommended daily dose, as this may complicate your symptoms or lead to unintended new ones.
Price
At the time of researching this review, the sale price on the product website for a bottle of 60 capsules cost $9.11. This represented a saving of 30% off the normal price of $13.05.
Guarantee & Feedback
You may only return unopened items if they are faulty, damaged or sent it you in error within 14 days of receiving the package. The seal and shrink wrapping must be in tact. This renders the return policy ineffectual if you would like to try the product but return it if you find it to have no effect on your symptoms. We struggled to find consumer reviews anywhere; however the company is active on Twitter and while there were no reviews on Twitter at the time of researching this review there were no negative tweets being directed at Nature's Well either.
Conclusive Review of Nature's Well Digest Well
Digest Well should help you do just that. You should experience a significant lessening of spasm, acid reflux, bloating and gas. This is a formula concerned with soothing your intestines and bringing IBS symptoms related to pain and discomfort under control. Nature's Well as a company also has a socially responsible approach to profit, and gives back 10% of all money earned to help sustainable health and water projects around the globe.
It seems these capsules will be of most relief to you if you're concerned with immediately abating symptoms. This is a short-term approach as it does not address long-term solutions in the form of probiotics and enzymes. You also need amino acids to help repair your gut long term. This ayurvedic remedy will be a gentle, mostly effective soothing aid but if you're trying to address the causes look out for alternatively formulated supplements as mentioned.
Bringing you top reviews and product analysis - Consumer Advisors.