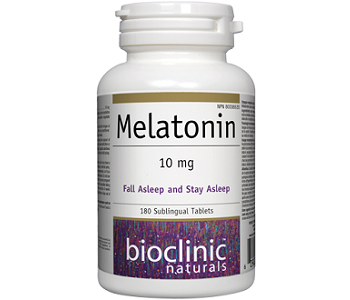 User Ratings (

0

Votes)

0
BioClinic Naturals offers a higher dose of melatonin for those with severe sleeping disorders and jet lag. Unlike other melatonin supplements, this one is sublingual, so you can take it under your tongue for faster absorption and without too much of it being lost in other metabolic processes. Melatonin is the standard neurohormone prescribed for sleep disorders and jet lag. Studies have shown it to be able to reset the sleep-wake patterns of at least 50% of travellers in a clinical trial. Melatonin is the primary neurohormone produced by the pineal gland and has a sleep inducing effect. The body has an internal biological clock that responds to various hormones and stimuli over a 24-hour period. These circadian rhythms are often thrown out of synch when when you travel because it could be mid-morning at your arrival city, but the body is expecting it to be dinner time as usual. When it doesn't get the corresponding signal – darkness – it throws the body into confusion and this is when insomnia or all-day drowsiness can set in.
Ingredients
Melatonin 10 mg
Lactose monohydrate
microcrystalline cellulose
natural peppermint flavour
croscarmellose sodium
vegetable grade magnesium stearate (lubricant)
This is an extremely strong dose which shouldn't be taken lightly. The usual recommended dose is 3mg per day, and anything more than this should ideally be prescribed or used under medical supervision. Used recklessly, you can do near irreparable harm to your sleep-wake cycles. As this is a strong dose, you should feel the onset of sleep sooner rather than later. You take it sublingually which also means it is absorbed into the body at a quicker rate than with a capsule. It is probably quick-release melatonin although the manufacturer does not say, meaning it releases all the melatonin at once rather than consistently over a few hours.
Dosage
Dissolve one tablet under your tongue or as directed by a medical practitioner. Do not use for more than 4 weeks. The manufacturer states that you should only get this from a medical practitioner.
Possible Side Effects
Do not drive or operate heavy machinery within 5 hours or taking melatonin. If you are pregnant, breastfeeding or trying to conceive, do not use this. Also do not take it if you are taking other blood thinning medication – do speak to your doctor first.
Price
You'll pay $38.50 for 180 tablets on Amazon. Bulk buying prices are not available as you can only order directly from Bioclinic Naturals if you are a qualified medical practitioner.
Guarantee & Feedback
No details about refunds or a guarantee policy is available as presumably this would only be discussed with the medical practitioners who are meant to be the intended buyers of the supplement. Similarly, the product is being ordered on Amazon but no reviews are available and this is probably due to the fact that again, only medical practitioners are meant to be buying or subscribing to this product.
Conclusive Review About Bioclinic Naturals Melatonin
The supplement contains no artificial colours, preservatives, or sweeteners; starch, sugar, wheat, gluten, yeast, soy, egg, fish, shellfish, salt, tree nuts, or GMOs and is suitable for vegetarians. You are only meant to obtain this high dose via a medical practitioner such as a doctor, so if you do happen to be able to purchase it online yourself, you must exercise extreme caution using it. If you are not a suitable candidate for this high dose, it could do more harm than good.
Look for a 3mg melatonin product if you wish to treat your jet lag with melatonin. That way, you know you are within safe boundaries, and you can also check that the purchaser has a refund policy in place in case it does not work for you. If your sleeping upset is severe, look for a product that also contain magnesium, zinc, vitamin B6 and valerian root.
Bringing you top reviews and product analysis - Consumer Advisors.