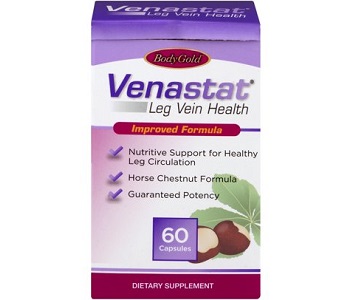 User Ratings (

0

Votes)

0
The following review is for a product called Body Gold Venastat Leg Vein Health. The manufacturer claims that this supplement might assist to provide nutritive support for tired legs and leg vein health and circulation.
Ingredients
Main Ingredient:
Horse Chestnut Extract (Seed)
Other Ingredients:
Natural Organic Sugar Cane Extract
Dextrin
Gelatin
Copolyvidone
Talc
Food Glaze
Poly Methacrylic Acid
Titanium Dioxide
Synthetic Iron Oxides
Horse Chestnut produces Aescin which appears to reduce swelling, inflammation and improves blood circulation. Aescin is very effective in treating vein problems especially when the veins do not efficiently return blood from the legs to the heart. Natural sugar cane extract used to mask the flavor of the capsule. Dextrin is a binding agent. Gelatin used as a gelling agent. Copolyvidone used as a thickener, lubricant film forming agent, and binder. Talk used as a glidant to improve the flowability of the capsule. Food Glaze used as a coating for capsules. Titanium Dioxide also used as a tablet coating.
Based on extensive research and clinical data is there only one key ingredient present in the manufacturer's supplement which we regret to say will not provide optimal vascular health to the consumer. The other ingredients which are either binders, fillers or lubricants are in excess of what the standard requirement should be.
Dosage
The recommended dose for adults is to take one capsule every 12 hours (equals two capsules per day). The capsules must be swallowed whole with water before meals. The manufacturer warns that this container must be stored at room temperature and may not be exposed to heat above 104 F.
Price
A container of one month's supply available directly from the manufacturer's website at a price of $11.05
Guarantee
This product comes with a 30-day money back guarantee. The item or items being returned must be unused and unopened for the guarantee to be valid. Items which have been used or opened will be charged a 15% restocking fee and if the order exceeded the amount of $500 a 50% restocking fee will be charged.
Body Gold Venastat Leg Vein Health Review – Conclusion
We have reviewed Body Gold Venastat Leg Vein Health and found there are some good consumer reviews, unfortunately, have we also found that there are clinically proven key ingredients which are vital to the optimal leg vein health of the consumer, omitted from the ingredients in this supplement. The manufacturer's guarantee comes with a high cost to the consumer which raises a great concern on our behalf as to the manufacturer's devotion to the consumer.
Bringing you top reviews and product analysis - Consumer Advisors.