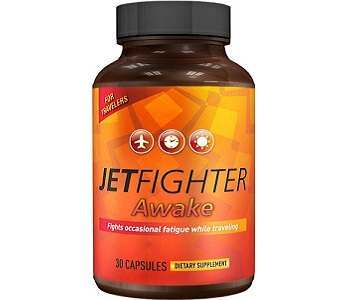 User Ratings (

0

Votes)

0
This is a product review for JetFighter Awake. This dietary supplement claims to relieve jet lag and fight daytime sleepiness. It regulates circadian rhythm, fights fatigue, and combats tiredness making travellers feel better on arrival. Read on to learn more about this product.
Ingredients
This dietary supplement contains the following ingredients:
5 mg of Vitamin B1 or thiamine HCl
30 mg of Vitamin B3 (33% niacin and 67% niacinamide)
7 mg of Vitamin B2 (riboflavin)
40 mg of Vitamin B6 (pyridoxine HCL)
400 mcg of Folic Acid
500 mcg of Vitamin B12 (cyanocobalamin)
100 mcg of Biotin
10 mg of Pantothenic Acid
100 mg of Magnesium (oxide)
100 mg of L-Taurine
100 mg of Acai
100 mg of Caffeine Anhydrous
5 mg of Rhodiola Rosea extract
5 mg of Spirulina Algae or herb powder
5 mg of Panax Ginseng extract
5 mg of Tongkat Ali Root extract
5 mg of American Ginseng extract
5 mg of Maca Root
Other Ingredients include:
Methocel
Gelatin
Silicon Dioxide
Magnesium Stearate (vegetable)
Dosage
The recommended dosage for this dietary supplement is one to two capsules daily preferably with meals. You can also consult a doctor for dosage instructions. For optimum results, take one capsule early at daybreak and the second capsule in the afternoon. Considering the amount of each ingredient, there is no doubt that this dosage contains the required amount of ingredient per serving. Do not take more than the recommended amount. Children below eighteen years, pregnant women, nursing mothers, and people with known health conditions should consult a physician before using this product.
Possible Side Effects
The packaging facility can also process soy, milk, wheat, egg, peanuts, fish, crustacean shellfish, and peanuts posing a risk to users who are allergic to these products.
Price
The price of one bottle (30 capsules) is $13.99 on Amazon. This does not include shipping costs. Free shipping is available for orders above $35. This is a fair price compared to the price of other products in the market.
Guarantee
A satisfaction guarantee is one of the attractive features of this product. Buyers can take the risk of purchasing this product because of the 100% satisfaction guarantee offered by the manufacturer. This guarantee allows dissatisfied customers to return the product for a full refund of the purchase amount. It signifies the manufacturer's confidence while creating confidence among unconvinced customers. We also identified numerous positive testimonials from customers meaning that most users a happy with this dietary supplement.
Conclusion Of Our JetFighter Awake Review
In conclusion, this product has a strong blend of ingredients that can relieve jet lag, fatigue, tiredness, and related problems. Nevertheless, it is vital to evaluate other factors that may either encourage or discourage customers. Factors that may encourage potential buyers to buy this product include the manufacturer's 100% satisfaction guarantee and many positive reviews from individuals who have used the product. On the other hand, some customers might refrain from using this dietary supplement because the manufacturing facility also processes products that might cause allergic reactions. In addition, this product contains caffeine (100 mg per serving), which might cause unwanted effects when taken continuously or in large amounts.
Bringing you top reviews and product analysis - Consumer Advisors.