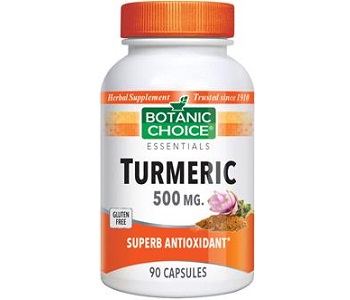 User Ratings (

0

Votes)

0
Today we review Botanic Choice Turmeric.  This supplement helps not only to stop joint pain and stiffness, but also improves overall movement.  With powerful antioxidants, these capsules also help keep your body healthy.
Ingredients
This supplement lists 500 mg of turmeric, which is also known as curcumin, as their only main ingredient.  One red flag we found is that it is not stated how standardized the turmeric is. For the supplement to be fully effective, it needs to be standardized to 95%.  Also, there is no BioPerine listed in the ingredients. BioPerine is a needed addition to help all of the nutrients absorb correctly into your system.
Dosage
The suggested daily dose of this supplement is to take one capsule, three times per day.  This will give you 1,500 mg of turmeric per day, which is 50% more than other products. Unfortunately, this additional amount will do nothing for the effectiveness of the product if the curcumin extract is less than 95% standardized.  Also, there is no statement of when exactly to take these supplements, or if they need to be taken with food or water.
Possible Side Effects
While no side effects were listed on the website, this product does come with a very large warning.  This product has ingredients known to the State of California to cause severe birth defects. Through our research, we learned that this supplement has traces of lead, which can be very poisonous for infants and adults alike.
Price
It is important to note, this supplement is only available for purchase in the US, except for in the state of California.  One bottle of 90 capsules costs $7 plus an additional $5.95 for shipping. They do offer an auto-shipment program, but it does not include a discount on the actual product, only on the shipping costs.  When you subscribe to this program, shipping only costs $2.95 per order. This is strange for them to not offer more incentive to join a program like this.
Guarantee & Feedback
Botanic Choice does offer a one year money back guarantee on its products, but they have many stipulations.  If you bought more than one bottle of this supplement, you may return all of them for a refund, but only one can be opened.  Also, you are not eligible for a refund if you return your bottle completely empty. As each bottle only contains one month worth of capsules, it will be difficult to take this supplement long enough for the turmeric extract to build up in your system and see how this product will affect you.
Our Conclusive Review About Botanic Choice Turmeric
There are a few things we liked about Botanic Choice Turmeric.  Each capsule does offer 500 mg of curcumin. Also, the price of this product is much cheaper than others we have seen.
Unfortunately, this product raised many red flags.  First off, it is not stated how standardized the turmeric in this supplement is.  Secondly, there are trace amounts of lead in this product which can be extremely hazardous to your health.  Lastly, their money back guarantee, while good for a year, comes with many stipulations that could make it difficult to get a refund for this product.  For these reasons, we cannot recommend this supplement to help you relieve your joint pain and stiffness.
Bringing you top reviews and product analysis - Consumer Advisors.