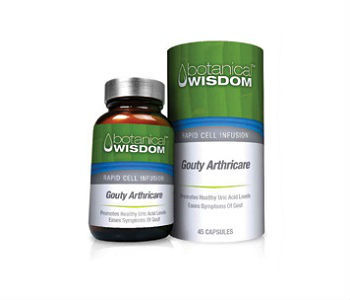 User Ratings (

0

Votes)

0
Botanical Wisdom Gouty Arthricare is a dietary supplement that helps to keep uric acid levels in the body within a normal range. Its natural Rapid Cell Infusion formulation aids in the reduction of gout symptoms such as pain and swelling in muscle tissues and joints so that people who suffer from gout are able to experience a more pain-free and lifestyle with enhanced mobility.
Ingredients
Apple cider vinegar: Helps to balance the pH levels in the bloodstream while keeping the production of uric acid in check.
Calcium citrate: This serves to neutralize uric acid in the bloodstream and allows the acid to pass naturally and painlessly through the urination process.
Hydroxypropyl methylcellulose (vegetarian capsule)
Magnesium stearate
Silicon dioxide: An inert ingredient which helps to preserve the freshness of the supplement.
Thyme herb extract: Possesses an anti-inflammatory that minimizes pain and swelling in muscles and joints. It also has diuretic properties that improve the amount of uric acid that passes through the urine as waste.
Dosage
It is recommended for patients to take 2 capsules twice per day as soon as a gout attack arises and then 1 capsule twice each day thereafter as a maintenance regimen. In order to maximize the benefits of this gout treatment, he pills should be taken in between meals.
Side Effects
 It is important to consult your physician before beginning to take this regimen if you are pregnant or a high risk patient. Although there is no current documentation of possible side effects, the human body does have the potential to act differently among patients who take this product and so it is wise to stop taking the supplements immediately if adverse side effects occur. Patients should consult their physicians before beginning to take this supplement to make sure that it does not interfere with the medications they may already be taking.
Price
The standard cost of a 45-capsule bottle of Gouty Arthricare is $29.95; however, there are internet stores that offer up to a 20% discount which lowers the price to $23.96 per bottle. Since each bottle lasts approximately 15 days, a full month's supply will cost around $47.92. This is quite pricey compared to the cost of other gout treatment supplements that available on the market.
Guarantee
The company does not offer any money back guarantee or refund policy for customers who are dissatisfied with the quality or effectiveness of Gouty Arthricare. This is a major downfall for a product that is so pricey.
Conclusion Of Our Botanical Wisdom Gouty Arthricare Review
Although this is a good product that is composed of natural ingredients shown to be beneficial as gout treatment aids on an individual basis, it is exorbitantly priced in comparison to a variety of other gout supplements. Furthermore, it does not even have a guarantee.
Bringing you top reviews and product analysis - Consumer Advisors.