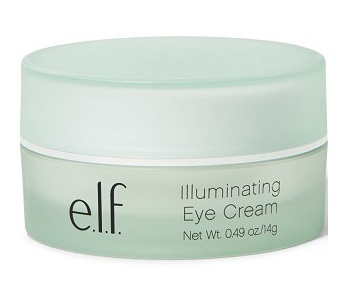 User Ratings (

0

Votes)

0
Elf asserts that its Nourishing and Illuminating Eye Cream will hydrate your eye area and minimize dark circles. The formula rests on the power of jojoba, vitamin E and cucumber. Jojoba is a must-have in a moisturizer so it is interesting to have it in an eye cream; possibly the cucumber distills it so it is not thick. Vitamin E is beyond essential – it must be included. Let us review this eye cream to see if it can possibly be the answer to fine lines, sagging under-eye skin and crow's feet. These are the eye skin issues most of the human race would love to banish for good!
Ingredients
The manufacturer emphasizes these key ingredients:
Vitamin E
Cucumber
Cetearyl Alcohol
Green Tea Extract
Vitamin E, whether in a moisturizer, serum or eye cream is so rich in antioxidants and the ability to spark collagen growth, that it should always be a hallmark of any formula. Collagen and peptides are what keep skin young and firm. Jojoba is hydrating, although we would not necessarily have expected it in an eye cream. The Green Tea Extract is rich in antioxidants, so would add to the free radical defense provided by the Vitamin E. As a hydrator, cucumber would help to keep your skin plump. It also reduces toxin build up. This is the reason many people resort to cucumber masks or to putting cucumber slices on their eyes. Cetearyl alcohol is the non-irritating form of alcohol and is rich in fatty acids. More importantly, it contains rich antioxidant algae and enzymes. Along with Vitamin E, we'd always look for algae antioxidants and enzymes as well. These are the clinically approved ingredients that are here. One of the most notable omissions though is alpha hydroxy acids. These acids remove dead skin cells so new ones can take their place. The deeply nourishing, multi-beneficial properties of Alpenrose and Passionflower are also missing.
How To Use
The cream is packaged in a small jar. Gently dab the cream over your eyelids and under-eye area. Do this morning and evening. First, cleanse your eye area. Afterward, apply your daily moisturizer.
Price
You'll pay $10.00 for a 0.49 oz jar. There are no discounts. You qualify for free shipping if you purchase for more than $25.
Guarantee & Feedback
The manufacturer will not offer returns due to the low price of the product. It is unclear what the low price has to do with a consumer being satisfied with the product and how it works. Most often the real reason for not accommodating returns is due to the manufacturer's own concerns regarding product efficacy. Consumer feedback is mixed. Some attach an average rating to it. Others allege that it takes longer to dry and leaves a sticky residue.
Our Conclusive Review About Elf Nourishing and Illuminating Eye Cream
The product features Vitamin E and algae-rich antioxidants in the form of Cetearyl alcohol. These are must-have ingredients so it's great they are indeed in. The cream is also cruelty-free and vegan-friendly. However, as explained, a host of benefits are lost when a product – as is the case here – leaves out alpha hydroxy acids, Passion Flower, and Alpenrose, among other clinically proven ingredients. We were surprised not only to find jojoba in the ingredients but also shea butter. These are great ingredients if you're looking for a good moisturizer. They are bound to make any eye cream slightly heavier than it should be, and indeed consumers complain of stickiness and residue. There is no cGMP certification, meaning there could have been product adulteration in the manufacturing process or contamination. The lack of a guarantee or returns policy also raises concerns. If you want the best for your eyes and products that are as close to certain as working as can be, look for ones with at least five patented ingredients. This means the formula is targeted and ultra hard-working. At a minimum, look for the inclusion of Passion Flower and Alpenrose, two clinically lauded ingredients.
Bringing you top reviews and product analysis - Consumer Advisors.