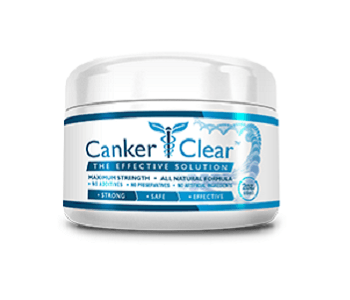 User Ratings (

0

Votes)

0
In this review, we examine Canker Clear. A strong and effective treatment for canker sores, for something that can be bought online and does not require a prescription, it works amazingly well and may be the most effective of its type that we have reviewed. This product targets the factors that cause canker sores and provides relief from their painful symptoms as well as speeding up the healing process. Not only does CankerClear treat the problem at hand but works to prevent canker sores in the future by reducing the pain and severity of canker sores as well as affecting their frequency. Read more below if you want to discover why this treatment is so effective.
Ingredients
Aluminum Potassium Sulfate (Alum) – causes blood vessels and mucous membranes to shrink. Removes moisture from canker sores to allow healing and has antibacterial and antiperspirant properties
Holy Basil Powder – contains essential oils that produce methyl eugenol, eugenol and caryophyllenehas, which have antiviral, antimicrobial and antioxidant qualities that can successfully treat canker sores
Propolis Powder – made by bees, Propolis has antifungal and antibacterial traits, reduces the pain and intensity of canker sores and speeds the healing process
Licorice Powder – numbs the sore, speeds up healing, reduces pain and has anti-inflammatory, antiviral and antimicrobial properties
Lysine Powder – is needed for the production of enzymes, hormones and antibodies, and increases calcium intake, which is thought to prevent canker sores
Folic Acid Powder – used to prevent a deficiency in folic acid as such a deficiency is connected with a predisposition for developing canker sores
Vitamin B12 – treats canker sores and can affect the severity and duration of them
Dosage
A pinch of powder should be applied onto or near the sore or site of inflammation. The powder should be left for 60 to 100 seconds before removal. Use saliva in your mouth to swill the powder mixture around for up to three minutes. Repeat this process two to three times a day. To prevent canker sores, mix the powder with water and rinse it around your mouth one to two times a week.
Possible Side Effects
You should not experience adverse reactions from CankerClear but if you do then you must stop using it immediately and see a doctor. If you have any concerns about using this treatment or are pregnant, nursing or using medication, it is a good idea for you to speak with a medical professional before using CankerClear.
Price
CankerClear can only be ordered online from the product's website. There are different size packages available, ranging from one bottle of powder to six. A single 1oz bottle of powder is $49.95. By buying more bottles together, however each bottle works out as cheaper. Two bottles, three bottles and four bottles cost $69.90, $95.85 and $111.80, respectively. The two largest packages offer a supply for many months and may even eradicate your canker sores almost permanently. These two packages, a five-bottle and a six-bottle one, are by far the best value. Five cost $124.75 while six cost $139.80. Each bottle works out as being half price or better than a single powder bottle.
Guarantee
A 60-day money back guarantee accompanies CankerClear. If the product does not meet your expectations or does not work for you then you are free to send it back within 60 days of its delivery. Simply contact the company to organise a return and refund and send it back. The condition of the bottles does not matter, whether new or opened. The company boast a return rate of under 1% so it is unlikely that you would find yourself returning this treatment. The powder has secured positive feedback from a number of users who have left comments that are clear to see on the product's homepage.
Conclusion Of Our Consumer Health CankerClear Review
CankerClear is an effective treatment for painful and bothersome canker sores. The strong combination of ingredients ensures that any canker sores you have will be quickly healed and will keep them at bay. Its ingredients have been extensively tested, are of the most excellent quality and are put together in a GMP Certified facility. Its guarantee is a superb one that gives you plenty of time to send the product back if you want to do so. You might consider the price to be a drawback but if you buy the product in bulk then you are getting six bottles, which will supply you for quite awhile and they are only half the price of a regular 1oz bottle. Most importantly, CankerClear has been praised by customers showing that it does work and there are satisfied customers. This is idea is reinforced by the fact that not even 1% of customers have returned CankerClear. That certainly shows that it works. If you are plagued with canker sores, you may want to give CankerClear a go.
Bringing you top reviews and product analysis - Consumer Advisors.