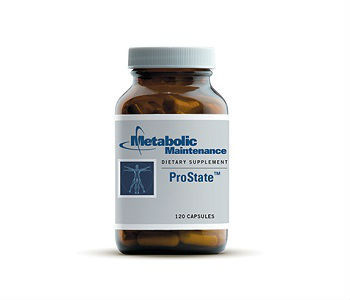 User Ratings (

0

Votes)

0
Metabolic Maintenance Pro-State is a herbal formula which claims to fight off the symptoms of prostate health problems which usually occur due to age. Besides being effective for general sexual health, this formula also claims to stop enlargement of the prostate gland which is quite common in males as their age advances. What sets this formula apart from other similar products available in the market is its unique blend of ingredients. Apart from using the traditional ingredients which are used in all herbal prostate medications, it also has pollen extracts and certain amino acids which not only ensure a healthier and smoother urinary flow but also reduces the chances of prostate enlargement.
Ingredients
Along with traditional herbs like Saw Palmetto, Pygeum Africanum and Stinging Nettle Extracts, it also has a Pro-State™ proprietary blend which contains Graminex pollen extracts and amino acids like Glycine, L-Alanine and L-Glutamic Acid. Take a look at its composition here:
Pygeum Africanum – The extract from this African tree remains the dominant ingredient for this product. It is very popular for enlarged prostate treatment.
Saw Palmetto – An ingredient useful for maintaining a healthy sexual life as it promotes and maintains levels of testosterone in the body.
Stinging Nettle Extracts – Another popular ingredient which maintains testosterone level in the body.
Pro-State™ proprietary blend – The amino acids as well as the newly discovered Graminex pollen extracts have been proven to be very effective for controlling the size of prostate and for general health.
Dosage
Recommended dosage is two pills in a day to be taken with meals, or as the doctor prescribes.
Side Effects
Since Pro-State is a completely herbal formula, there have been no reported side effects till date.
Pro-State is to be taken as a dietary supplement and is a non-prescription formula. Even those who do not suffer from extreme prostate health problems can start taking this to ensure that any Prostatitis or prostate cancer symptoms are fought off before they can take root. The herbal ingredients as well as the specific amino acids used in this formula will definitely ensure sexual health on a long term basis.
Price
A bottle of Pro-State, containing 120 tablets costs $47. This effectively means a 2 month supply with a monthly cost of slightly over $23. This is definitely very reasonable for a formula which ensures prostate health. Surprisingly, there are no discounts offered by the manufacturer, even on bulk purchases.
Guarantee
A 30 day money back guarantee is offered by the manufacturer. This is certainly not at par with the guarantees given by many other manufacturers of similar products and is not adequate as it would be difficult to determine the effectiveness of a dietary supplement within 30 days. Additionally, the company may also charge a 15% restocking fees.
Conclusion Of Our Metabolic Maintenance Pro-State Review
While Metabolic Maintenance Pro-State formula may seem appealing, it can at best be termed as a mild supplement. This is because of the absence of several popular ingredients like beta-sitosterol and Vitamin E. However, it does contain some unique amino acids which are missing in its competitors.
Bringing you top reviews and product analysis - Consumer Advisors.