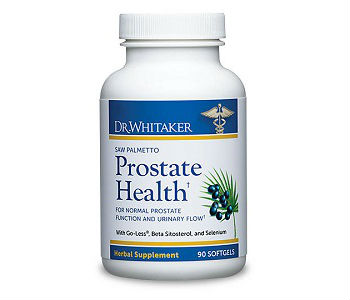 User Ratings (

0

Votes)

0
Dr. Julian Whitaker, widely considered as one of the most trusted wellness doctor in America, has developed the Prostate Health formula for curing the symptoms of prostate gland dysfunction caused mainly due to prostatitis i.e. enlargement of prostate gland. Some of the claims made by this product are listed below:
Maintains the environment for normal tissue function of the prostate gland ensuring general sexual health.
Keeps the size of the prostate at its functional level.
Reduces nightly urination by more than 40%.
Strengthens the muscles involved during urination to peak the flow and ensure less is retained in the bladder.
Protects prostate from free-radical damage.
Protects the prostate from the enzyme 5 alpha-reductase.
The official distributor for this formula is Healthy Directions which has set a record for distributing only safe and effective products which pass its stringent quality check measures and Triple Testing Methodology. This fact in itself should give an idea about the effectiveness of this formula in prostate problem treatment.
Ingredients
Dr. Whitaker's Prostate Health formula contains a blend of most popular herbal ingredients and general vitamins which have been clinically proven to be effective in curing prostate related problems and maintaining the health of the prostate gland. The most unique ingredient, however, is the Go Less Proprietary Blend of Pumpkin Seed and Soy Extract. It is a clinically tested, registered blend which promotes bladder wellness. Here is a list of the composition of this product:
Go-Less® Proprietary Blend (Pumpkin Extract, Soy Extract) – Present in the largest quantity, the pumpkin extract is very beneficial for promoting stability of the bladder while the soy extract contains isoflavones which fight prostate cancer. Overall, this extract has been clinically proven to ensure urinary health.
Beta-Sitosterol – Another clinically tested ingredient which maintains the size of the prostate to its functional size.
Saw Palmetto Extract – A herbal ingredient which helps the production and maintenance of testosterone in the body.
Pygeum Extract – It fights the symptoms of prostate cancer.
Nettle Root Extract – This too helps in maintaining testosterone level by ensuring that it is not bound up in the Sex Hormone Binding Globulin.
Lycopene – A kind of tomato extract which helps defend prostate against free-radical damage.
Dosage
This formula comes in the form of softgels and the recommended dosage is 2-4 softgels in a day depending on the state of health of the prostate. It has to be taking along with meals.
Side Effects
There have been no reported side effects as it contains only herbal ingredients. The formula is also clinically tested to be effective and is completely safe.
Long Term Results
This formula certainly seems to be quite effective for maintaining the size of the prostate at its correct size and managing urinary frequency and flow issues. The goodness of its ingredients no doubt ensure that when taken at a long term basis, it will definitely give excellent long term results with respect to maintaining the general sexual health of the consumer.
Price
One bottle of this formula, containing 90 softgels costs $39.99. Recommended dosage is an average of three softgels in a day, so one bottle should last for a month. Besides, the official website also offers very attractive discounts on bulk purchases. On purchase of 3 bottles, 1 bottle will be given as a free gift while on the purchase of 5 bottles, 2 will be given free. Considering all the positives about this formula, the price is extremely reasonable.
Guarantee
An impressive 90 day guarantee is given by the manufacturer – a rarity in the medical marketing world.
Conclusion Of Our Dr. Whitaker Prostate Health Review
The best way to know whether a product is good or not is to looks at its ingredients list to see whether they are meant for the purpose for which the product is made and to check whether it is clinically tested/approved. Dr. Whitaker's Prostate Health Formula fulfils both these requirements. Besides, the 90 day guarantee is very attractive and the product definitely gets thumbs up.
Bringing you top reviews and product analysis - Consumer Advisors.