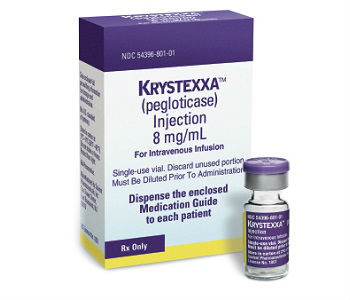 User Ratings (

0

Votes)

0
Gout is very painful. There is nothing pleasant about gout and there are many people in the world who suffer from it. Gout can rear its unpleasant head at the worst possible times that leads to a lot of discomfort. This is the last thing we need when we are trying to go about our daily business. Raising children, working and staying active all require a healthy body, so we have to do whatever we can to alleviate suffering from gout. Today we are going to share our Krystexxa (pegloticase) review with you and see if this supplement can help alleviate the symptoms of gout.
What is Krystexxa?  Krystexxa (pegloticase) is a formulated enzyme that could possibly metabolize uric acid into chemicals that can be passed through in your urine. The idea behind this is to treat gout symptoms but it is not the first method used. This is normally prescribed or recommended when other less harsh medications have not worked successfully.
Ingredients
There is not much information about the ingredients in this product. The prescribing information for this product states that it is a PEGylated uric acid specific enzyme. This product is specifically for use by people with chronic gout.
Dosage
The normal dosage for adults taking pegloticase is 8mg of uricase protein. This is given intravenously every two weeks. The company website claims that there has been no established length of treatment. This leads us to believe that the dosage decision is left in the hands of your general practitioner or physician. Pegloticase is not a drug to be taken lightly and without thoughtful consideration, this is all stressed clearly from our research on the available sources we found.
Possible Side Effects
This product comes with a lot of warnings and possible side effects that are all mentioned in the prescribing information found on the manufacturer's website. There is a risk of anaphylaxis from the infusion and may occur within two hours of the infusion. It si also possible for this to be delayed. Those with G6PD deficiency should not use this medication and it could be life threatening.
Price
There is no fixed recommended retail price for Krystexxa as it is a controlled substance, meaning you will need a prescription and the right insurance to obtain it. Controlled substances are very expensive to buy without insurance.
Guarantee & Feedback
Krystexxa results can vary greatly as every individual has different genetics, no guarantee can be expected for the treatment to be successful and there is no 'money back offer' as this brand is not your typical over-the-counter medication. We found mostly positive user reviews online for this treatment.
Our Conclusive Review About Krystexxa
We are certainly not dismissive that this product could work to manage symptoms of gout; it could be a very worthy venture for people who have serious issues with gout or for people who have used up all of their other options. The product info states that there could be a long list of possible side effects that you may experience, so if you have not tried other avenues just yet, we suggest looking for less harsh medications and see if you have success with those. This product also requires you going into a medical center for treatment every two weeks.
Gout can become a serious problem if left untreated, so we do encourage you to do as much research as possible into the products you buy and don't just ignore any symptoms that you have. There are other more natural products available on the market to help manage your gout symptoms that are easily accessible and easy to take at home.
Bringing you top reviews and product analysis - Consumer Advisors.