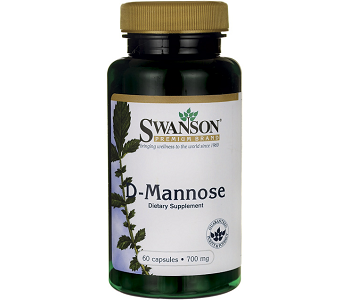 User Ratings (

0

Votes)

0
Urinary Tract Infections, or UTIs, happen when bacteria enter the urethra, multiply and manifest into an infection. Your body is designed to combat these bacteria but factors like a lowered immune system can cause your system to fail and allow the bacteria to turn into an infection. Symptoms of a UTI include burning and painful urine, fever, bloody or cloudy urine and nausea. The most common treatment for a UTI is antibiotics but while effective, your body can quickly build up a resistance to them. Antibiotics are also limited in the way that they can only treat an existing infection but cannot prevent future ones from occurring. This review is going to examine Swanson D-Mannose. This product is a dietary supplement that is taken to treat and prevent UTIs. This supplement comes in capsule form and the manufacturer claims that it will nourish healthy flora and support urinary tract health.
Ingredients
UT-Pro D-Mannose – 700 mg
Inactive Ingredients: Gelatin, Microcrystalline cellulose, magnesium stearate, silica.
D-Mannose is a simple sugar that is found in several fruits that are related to glucose. It is believed to work by preventing E.Coli, which is believed to cause 80% of UTIs, from sticking to the uterine lining and instead causes the bacteria to stick to sugar which helps the bacteria leave through the urine instead. D-Mannose is also believed to act as a prebiotic which is believed to stimulate the growth of good bacteria in your digestive system.
Dosage
Swanson recommends taking one capsule one or two times daily with water. For maximum benefits, they advise taking two capsules twice daily.
Possible Side Effects
Swanson does not list any possible effects. Through our research, we were able to find that common side effects associated with consuming excessive amounts of D-Mannose are bloating, loose stools and diarrhea.
Price
You can purchase this product on the manufacturer's website for $12.99 for a 60 capsule bottle. Swanson does not offer any bulk purchasing packages or discounts.
Guarantee & Feedback
Swanson offers a full year money-back guarantee on opened or unopened bottles. They include the costs of domestic return shipping costs.
Our Conclusive Review About Swanson D-Mannose
This D-Mannose dietary supplement appears to be decent. It comes in easy to swallow capsules and has a month's supply in every bottle. However, it is discouraging to see that the manufacturer does not offer any bulk purchasing packages or discounts. D-Mannose is a supplement that you can potentially take daily for a lifetime, depending on how prone you are to UTIs. Without bulk purchasing options, the costs can add up quickly. D-Mannose also offers limited protection from UTIs because it only protects against E.Coli which is believed to cause around 80% of UTIs, but still, leaves you vulnerable to other UTI causing bacteria. In order to get full protection from UTIs, you would need to take this supplement in conjunction with another, further adding to the costs. In our research of UTI treatment and prevention products that are currently available, we have seen products that offer a blend of ingredients that offer full protection from UTIs in one capsule and we are inclined to inquire further about a multi-faceted supplement with bulk purchasing options, to make it cheaper to maintain urinary tract health.
Bringing you top reviews and product analysis - Consumer Advisors.