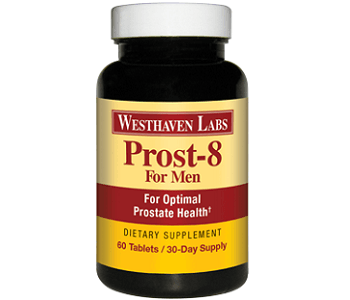 User Ratings (

0

Votes)

0
In this Prost-8 review, we will delve into this product a little bit deeper so that you'll have all the necessary information needed to make an informed purchase. This dietary supplement is developed by Westhaven Labs and it is designed to promote optimal prostate health in men. The product's website doesn't share much information about what this product specifically does and how it works.
Ingredients
The product's main ingredient, beta-sitosterol, is a chemical naturally found in vegetables and fruits. It is highly associated in fighting heart disease, high cholesterol and boosting the immune system. Recently, this substance has been linked to promoting a healthier prostate by improving the general urinary system.
This product also contains selenium and zinc, minerals that are commonly found in nuts, beef, oysters and other seafood. Zinc plays a very important role in keeping our internal organ's size in check. However, there are many contradicting studies about the other ingredient, selenium, and its effects on the prostate. Some studies claim that instead of keeping the prostate healthy, it might actually increase the risk of developing prostate cancer. The investigation and research about this debate are still ongoing and might take some time before solid results are found.
Dosage
This product is to be taken twice a day with plenty of water. The specific time and manner on how an individual should take this product are not discussed on the product's website which might confuse some people. This dosage seems to be on par with the current recommended dosage for beta-sitosterol which is 1200mg per day.
Price
This product is available for an online purchase on the manufacturer's website for $29.95 per bottle that should last for one month. You can also take advantage of their "buy 2 get 1 free" offer for $59.95 and their "buy 3, get another 3 free" offer for $89.95. All items come with free shipping if you live in the USA.
Guarantee & Feedback
If you are not satisfied with the product, you can return it within 120 days of purchase. After returning the product, a refund for the amount paid (freight charges not included) will be issues. One thing we could not figure out is if the company accepts partially used or opened bottles. They do say to return all the products you are wanting a refund on, though.
There seems to be almost no feedback for this specific product. This might be due to the fact that this product is not available at major online retailers such as Amazon and Walmart. This makes it very hard to tell if the previous and current users are satisfied with its performance.
Our Conclusive Review About Westhaven Labs Prost-8
As far as the ingredients are concerned, the product seems to contain the exact amount of beta-sitosterol needed for optimal prostate function. The manufacturer also seems to offer discounts that will help you save a lot and secure up to 6 months worth of this supplement. However, we must take into consideration that one of the product's ingredients (selenium) might actually do more harm than good. This supplement also has almost no feedback which makes it even harder to discern the product's effectiveness and possible side effects. It also may not be such a popular product.
Bringing you top reviews and product analysis - Consumer Advisors.