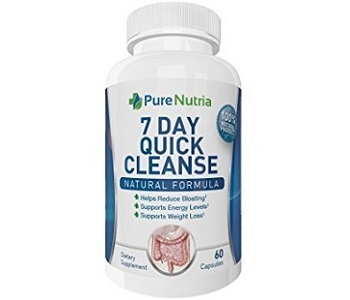 User Ratings (

0

Votes)

0
Today we review the 7-Day Quick Cleanse by PureNutria. A thorough cleansing of your digestive system can not only help you lose weight faster but it can also help you to feel less bloated and sluggish.  This can also help you to eliminate toxins from your body and is seen as a great first step in beginning a healthier lifestyle. The 7-Day Quick Cleanse claims that it can help you feel renewed and refreshed whilst also giving your body a powerful immune system boost. This product also claims to aid your bowel movements and it helps you to absorb all of the nutrients that your body needs.
Ingredients
Cascara Sagrada
Senna Leaves
Fennel Seed
African Bird Pepper
The secondary ingredients include Gelatin, Rice flour and Magnesium Stearate. Cape Aloe is known for the fact that it had cleansing and detoxifying agents that help the digestive system. It is also packed with vitamins, minerals and amino acids. Cascara Sagrada has anti-inflammatory and laxative properties. Senna Leaves reduces inflammation in the digestive tract and helps to detoxify the body. Fennel Seeds help to stimulate the production of bile in the stomach and naturally reduces pain. African Bird Pepper helps with circulation and aids overall digestion.
Dosage
It is recommended that adults and children 15 years of age or older, take 1 capsule at breakfast and 1 capsule at night. Both capsules should be taken with 8 ounces of water or other beverage. You should not exceed the amount of 2 capsules within 24 hours, and you should reduce your dosage to 1 capsule a day after the initial 7 days.
Possible Side Effects
This product is not intended for pregnant or nursing mothers. Do not ingest this product if you suffer from abdominal pain or diarrhoea. This product is also not meant to be used for more than 7 days at a time.
Price
You cannot buy this product directly from the manufacturer's website. This product is available on Amazon for $15.00. One bottle contains 60 capsules and you can also qualify for a coupon regarding this product if you buy it from Amazon and if you sign up for a subscription.
Guarantee & Feedback
If you buy this product from Amazon then you will be able to return this product within 30 days for a full refund if you are not happy with the results regarding your weight loss. Some of the reviewers on Amazon did not get satisfactory results from using this product. More than 35% of the reviewers gave this product a 3-star rating or less and a lot of the reviewers stated that this product caused severe bloating.
Our Conclusive Review About PureNutria 7-Day Quick Cleanse
We like that this product is quite competitive when it comes to price and when it comes to the amount of product that you get per bottle. We also like that you can get discount on Amazon if you sign up for a subscription regarding this product. However, we are not completely satisfied with the lack of diversity when it comes to the ingredients used in this product. We also feel that the reviews on Amazon were not favourable, making us doubt the effectiveness of this product even more.
Bringing you top reviews and product analysis - Consumer Advisors.