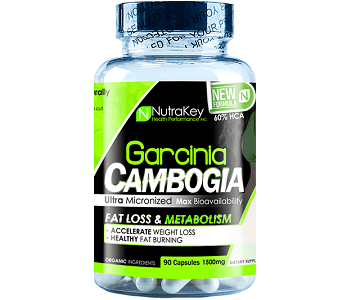 User Ratings (

0

Votes)

0
Today we review Garcinia Cambogia manufactured by NutraKey. Losing weight can be a hard and strenuous process if your body does not have the support it needs. Garcinia Cambogia claims to accelerate the weight loss process by suppressing your appetite and curbing your cravings. This supplement also helps to block the formation of new fat cells and helps to keep you energized throughout your day. If this product interests you and you think it could be beneficial to your lifestyle, read the rest of our review below to find out more.
Ingredients
The only ingredient found in this supplement is Garcinia Cambogia Extract with 60% of Hydroxycitric Acid. HCA is the main ingredient in Garcinia Cambogia responsible for healthy and effective weight loss. HCA stops the fat forming process in the body by inhibiting the enzyme citrate lyase. This whole process not only helps you to lose weight but also helps to lower your cholesterol and it quickens your metabolic rate. Unfortunately, we could not find any information stating whether this product is vegan-friendly or not.
Dosage
It is recommended that you take 3 capsules with water twice a day on an empty stomach. It is best to take the first serving 30 minutes before eating breakfast and the second serving 30 minutes before eating lunch. It is best to drink lots of water whilst taking these supplements.
Possible Side Effects
Normally there are not a lot of side effects present when taking these supplements but you may experience slight nausea or diarrhea if ingest more than the recommended daily amount. If you are pregnant, nursing, under 18 or taking prescription medication it is best to consult your doctor prior to taking this supplement.
Price
You can order this product directly from the manufacturer's website. It is available for $14.99 per bottle. Each bottle contains 90 capsules and all US orders are shipped at a flat rate of $8.99 per order. Orders over $50 are eligible for free shipping.
Guarantee & Feedback
There is a 90-day guarantee policy regarding this product if you buy it directly from the manufacturer. The product must at least be 75% full in order to be eligible for the guarantee. NutraKey will pay the first return shipping fees, but any return shipping fees after that will have to be paid by the customer. The feedback regarding this product is varied, but it does have a lot less positive reviews than similar products on the market. Some of the customers stated that instead of losing weight, they actually gained a couple of pounds while using the product.
Our Conclusive Review About NutraKey Garcinia Cambogia
We like that this product is affordable compared to similar products on the market. We also like that it has a relatively high dosage of Garcinia Cambogia per serving size and that it has a 90-day money back guarantee. However, we are a bit disappointed by the lack of varying ingredients inside this product. A lot of similar products include ingredients such as calcium and potassium, which aids the process of weight loss and keeps your general health in check. We also are not thrilled about this product's negative reviews on Amazon. The guarantee policy gives the customer ample time to return the product, but it's a shame that the product has to be at least 75% full in order to be eligible for that refund.
Bringing you top reviews and product analysis - Consumer Advisors.