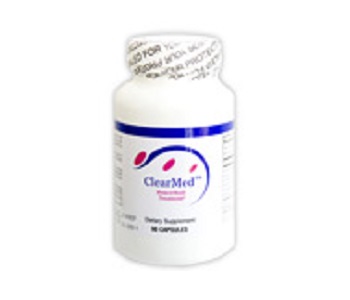 User Ratings (

0

Votes)

0
Today we review ClearMed Hemorrhoid Treatment.  This prescription strength medicine rapidly shrinks your hemorrhoids to offer relief within 5-7 days.  By starting on the inside of the body and working towards the outside, this medicine ensures that you will be completely cured after treatment.
Ingredients
This formula contains 6 proven ingredients to help increase blood circulation, reset your bowel movements, and overall cure your hemorrhoids.  Witch hazel leaf, horse chestnut leaf, ginger root, hesperidin, and diosmin all have vein strengthening capabilities, support improved blood circulation, and some also contain anti-inflammatory qualities.  Blonde psyllium works as a stool softener to help bowel movements move easier through your digestive tract. Unfortunately, there are no ingredients in this formula to help relieve the burning and itching often associated with this kind of problem.
Dosage
This product's supplement facts state that a serving size of this medicine is 2 capsules.  Unfortunately, there are no other directions available on the website regarding the best way to take this supplement.  It is not stated when to take a dose, how many doses you can take per day, and if you need to ensure to take these capsules with water or food.  Without this information, we are unable to truly know how effective this product will be.
Price
This medicine is available in both a one and two week supply.  The one week supply costs $39.95. By purchasing a two week supply, you save $20, which brings the cost to only $59.95.  They also offer a treatment for moderate to severe hemorrhoids which costs $89.95. All of these options are extremely expensive when compared to their competitors.  Plus, if you would like to stop the burning and itching while also healing this problem, you have to buy an additional item. The company offers a relief cream for the pain which costs and additional $19.95.  With everything you would need to purchase, this system is very overpriced.
Guarantee & Feedback
The company does offer a 60 day money back guarantee on their products.  If you are not fully satisfied after treatment, you can return the products for a full refund within two months.  However, there is no real information regarding how to start the return process or whether or not you are required to pay for the shipping and handling.
Our Conclusive Review About ClearMed Hemorrhoid Treatment
There are a few things we liked about ClearMed Hemorrhoid Treatment.  The formula does include many proven ingredients that help shrink hemorrhoids for fast relief.  Also, there is a 60 day money back guarantee if you find yourself dissatisfied with the product.
There are, however, many points of concern for us.  While the ingredients are good, they do not include anything to help with the burning and itching sensations that often accompany this problem.  There are also no clear directions as to how to take this medicine for optimal results. Next. the price for this system is much more expensive than any of its competitors.  Lastly, there was no real information surrounding how to take advantage of the company's return policy. For these reasons, we cannot recommend this product to help you heal your hemorrhoids.
Bringing you top reviews and product analysis - Consumer Advisors.