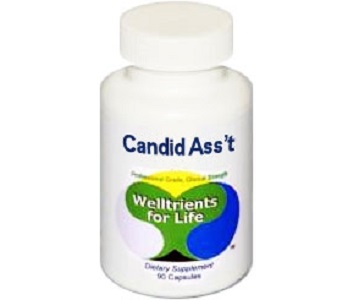 User Ratings (

0

Votes)

0
The following is a review for a product from Colloids For Life that is called Candid Ass't. This dietary supplement helps the body fight off fungal and yeast infections as well as boosting the immune system. This supplement contains over 11 billion probiotics, which are derived from 15 different strains of probiotics. These probiotics help the body fight off unwanted bacteria. An additional benefit associated with the continued use of this product is that it helps keep your bowels healthy and regular by restoring the protective mucous in the intestines.
Ingredients
According to the manufacturer, this product contains nine strands of probiotics from Lactobacillus, 4 from Bifodobacterium, and two strains from special gram-positive commensals. This supplement contains an excellent amount of probiotics that is equal to 10 cups of yogurt in each cup. However, we always look for Vitamin C and Vitamin B complex in products that restore the microflora in the body. We were also concerned that this product is not suitable for people with food allergies or who follow a vegan diet as the manufacturer does not provide any information regarding additional ingredients.
Dosage
Unfortunately, the manufacturer does not provide any information regarding the serving size of this product. They do state if you are taking this supplement as a probiotic, you should take it an hour or two before you take your antibiotic. They also say that you can take this supplement with or without food.
Possible Side Effects
According to a warning on the manufacturers, website diarrhea is a possible side effect for people who take high dosages of this product. This is because the ingredients in this product bring the body into a state of detoxification. If you do experience any of these side effects, you should decrease the dosage you are taking.
Price
This product is available directly from the manufacturer on their online store. One bottle that contains 90 capsules costs $51.95. Unfortunately, there is no saving or discounts available for this product but the manufacturers do offer free shipping, which helps keep the price slightly lower.
Guarantee & Feedback
After a considerable search, we were unable to find any information regarding guarantees that are available for this product. This is quite concerning as it indicates a lack of confidence in their product. There are also no customer reviews available to give an indication of how popular this product is.
Our Conclusive Review About Colloids For Life Candid Ass't
As we completed this review, we found that this was a reasonable product that boosts the immune system and helps fight fungal and yeast infections. This supplement contains 15 probiotics and is free from additional ingredients. However, we uncovered quite a few things, which we were less than impressed with. Products that control the microflora in the body contain many important ingredients that are unfortunately lacking in this supplement. We were also shocked to discover that the manufacturer does not provide any information regarding the dosage of their products. Additionally, this product is really quite expensive. There are a variety of products available that offer you much better value for your money.
Bringing you top reviews and product analysis - Consumer Advisors.